Lydia Wevers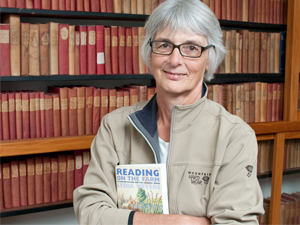 Lydia Wevers
Lydia Wevers spent 17 years as the director of the Stout Research Centre, a centre for scholarly enquiry into New Zealand society, history and culture at Victoria University in Wellington. When she took on the directorship in 2001, the future of the Centre was far from assured – the university had planned on closing the it the year before and only offered the job as a half time position.1 Wevers worked to reconnect the Centre with the rest of the University and broadened the Stout's scope to include disciplines from geology to New Zealand's counter culture.

Wevers first took a position at Victoria University in 1973, as a lecturer Renaissance literature. Since then she has become an expert in New Zealand literature and New Zealand studies. In 2013, she was awarded the Royal Society's Pou Aranui Award for her dedication to promoting New Zealand studies, literature and art.
Reference:

1. "Lydia Wevers Bids a Fond Farewell to the Stout Research Centre," Radio New Zealand, July 30, 2017, https://www.radionz.co.nz/national/programmes/standing-room-only/audio/201852908/lydia-wevers-bids-a-fond-farewell-to-the-stout-research-centre.
This profile is part of the series 150 Women in 150 Words that celebrates women's contributions to expanding knowledge in New Zealand, running as part of our 150th Anniversary.