Margaret Brimble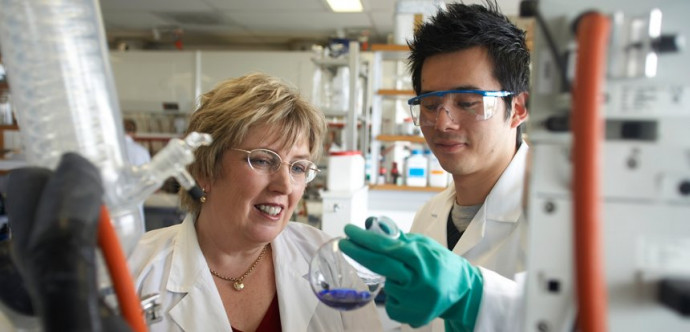 Margaret Brimble
The second woman to win New Zealand's top science and technology honour was Dame Margaret Brimble – who in 2012 won not only the Rutherford Medal, but also the Hector Medal and the MacDiarmid Medal in the same year. Brimble grew up in Auckland, and enjoyed the logic of mathematics at school but remembers being in the dark about what happens in a chemistry laboratory.1 It was while studying for a PhD in England that Brimble attended a lecture describing the synthesis of a very complex molecule – and became hooked on the idea.

Brimble leads a research group at the University of Auckland discovering how to make molecules, some of which can be used to treat disease. Brimble likens synthesising complex chemicals to a game of molecular chess. One success came when the team modified a naturally occurring peptide that occurs in the brain after trauma injury – a potential drug in which the U.S. army has invested $23 million.2 She was elected a Fellow of The Royal Society, London in 2018, and was made a Dame Companion of the New Zealand Order of Merit in 2019.

References:
1. L'Oréal Foundation, Prof. Margaret Brimble, 2007 For Women in Science Laureate for Asia/Pacific (New Zealand), accessed February 4, 2018, https://www.youtube.com/watch?v=egwmNBAaxRo.
2. Royal Society Te Apārangi - 2012 Rutherford Medal.
This profile is part of the series 150 Women in 150 Words that celebrates women's contributions to expanding knowledge in New Zealand, running as part of our 150th Anniversary.