Michelle La Rue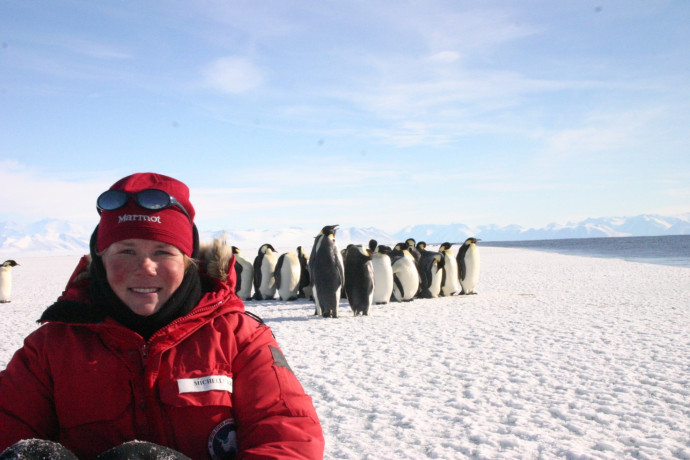 A group of emperor penguins visit the ice edge in Erebus Bay during Michelle's field work in 2010. Photo credit: Brad Herried.
2022: Associate Professor Michelle La Rue, from Te Whare Wānanga o Waitaha University of Canterbury, has been awarded a Rutherford Discovery Fellowship for research titled 'Southern Ocean connections: A metacommunity approach to understanding changes in the marine predator guild'
Published on 27 Whiringa-ā-nuku October 2022
Biography
Dr Michelle La Rue received her PhD in 2014 in conservation biology from the University of Minnesota (USA) and has been an Associate Professor at the University of Canterbury since 2022. Her research speciality is marine ecology, to which she embraces a Te Ao Māori view with emphasis of marine life interconnected to environment. Dr La Rue recognises the importance of science communication and engagement, and completed a first-of-its-kind citizen science project called, Satellites Over Seals (SOS). In this project she engaged more than 320,000 citizen scientists to help her search for Weddell seals on satellite images. With such volunteer enthusiasm, her team went on to determine the first ever population estimate for Weddell seals in the Southern Ocean.
Research summary
The Southern Ocean encircling Antarctica is unique in that it is home to co-existing predators, a rarity among most other ecosystems in the world. While this includes some of the best studied populations on the planet including seals and penguins, surprisingly, we know very little about their location or population size over time, particularly in relation to climate change.
A holistic view of ecosystem function in the Southern Ocean has been hampered by our ability to learn about only a handful of 'indicator species' such as penguins and seals. But these animals do not live in isolation; they co-exist, live, dive, and use the same spaces as many other species. This means that studying any one species does not provide the necessary answers for ecosystem-scale questions to be addressed.
Dr La Rue's aim is to integrate observations, population counts, and knowledge of behaviours across time and space for four species that make their home on the Southern Ocean: crabeater seals, Weddell seals, emperor penguins, and Adélie penguins. With collaborators in the USA and Antarctic NZ, Dr La Rue will undertake field work in Antarctica to track population data and habitat, examining foraging patterns across the four species. The integrative approach taken – made possible with high resolution satellite imagery, animal tracking technologies, and geospatial modelling – will inform understanding coexistence and biodiversity for the Southern Ocean. Moreover, this research has been co-designed with Māori to uncover Antarctic mātauranga knowledge systems, support kaitiakitanga in the Southern Ocean and waters surrounding Aotearoa, and build capacity to remotely monitor and predict change in taonga species.
While Dr La Rue expects to share her research finding through science publications, she is also keen to engage with primary school students via the ground-breaking Skype-A-Scientist platform. This platform facilitates educators' ability to directly engage with researchers through virtual classroom visits.