Tom Logan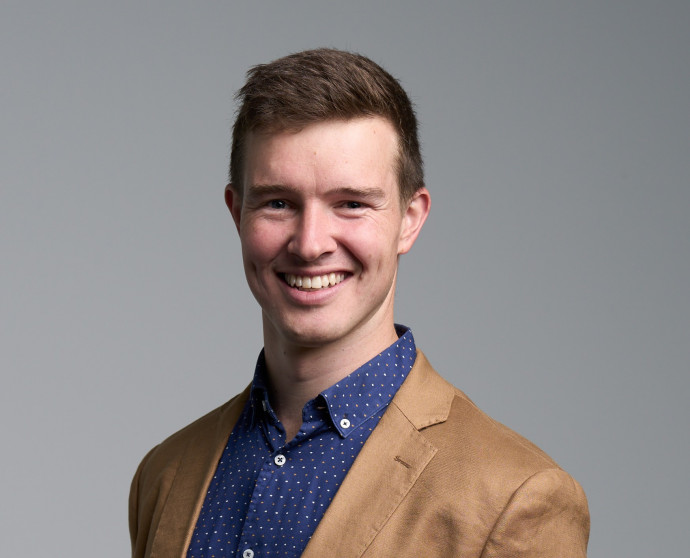 Dr Tom Logan. Photo: Supplied.
2023: Dr Tom Logan, Te Whare Wānanga o Waitaha University of Canterbury, has been awarded a Rutherford Discovery Fellowship for research titled 'Incorporating cascading risk and multiple uncertainties into climate adaptation planning'
Published on 27 Whiringa-ā-nuku October 2023
Biography
Dr Tom Logan is an emerging international leader in interdisciplinary methods for tackling risk and climate adaptation. By leveraging strong relationships with local and regional councils around Aotearoa New Zealand and Manatū Mō Te Taiao the Ministry for the Environment (MfE), Dr Logan's focus is determining how to adapt cities to climate change while making them more sustainable, equitable, and healthy. To achieve this, Dr Logan uses methodologies including machine learning and data science; geospatial analysis; complex systems simulation; multi-criteria decision-making; and network analysis.
Dr Logan is the founder and Director of University of Canterbury's Cluster for Community and Urban Resilience (CURe) – an interdisciplinary network with more than 20 researchers that rethink resilience practice and work with communities to prepare for climate change. He's received millions of dollars in multiple climate change grants and recently received a Presidential Service Award from the International Society of Risk Analysis.
Research summary
Communities worldwide are primarily basing their climate change intervention strategies on high-level and qualitative risk information. Such information is insufficient to support the decisions that communities must urgently make. Additionally, it is not understood how the rapidly improving multi-hazard risk assessments can be included when evaluating interventions.
Effective adaptation means our communities need to be able to develop plans that:
address changing risks
reflect the community's values
maximise synergies across wellbeing domains (social, cultural, economic, environmental)
minimise potential for instability, and
operate within resource constraints
In this fellowship, Dr Tom Logan will develop a holistic, multi-criteria, and quantitatively rigorous approach for multi-hazard intervention analysis and adaptation planning that will enable a transformative shift in how we prepare for the future. Dr Logan will evaluate the effects of interventions with indirect and cascading risks using real world applications. For example, building a seawall to protect a road may devastate an ecosystem, which could in turn affect access to mahinga kai, and diminish the cultural value of an area.
Existing decision-making tools consider only one uncertain driver at a time. Recent events, such as the floods in Tāmaki Makaurau Auckland and Cyclone Gabrielle, were a rude awakening to a future Aotearoa faces from a climate change perspective. But how do we plan for changing storms as well as changing sea levels and changing temperatures? The combination of impacts could be catastrophic. Dr Logan's approach will combine state-of-the-art methods in indirect risk assessments to develop robust intervention plans capturing multiple uncertainties for Aotearoa. This fellowship will provide an important platform for decision-makers and communities to plan for the worst, and use all available knowledge to do our best.