Emma Nolan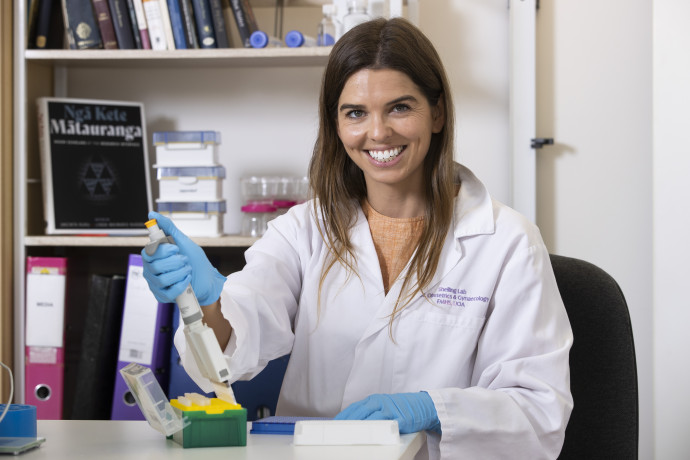 Dr Emma Nolan. Photo: Auckland Medical Research Foundation.
2023: Dr Emma Nolan, Waipapa Taumata Rau The University of Auckland, has been awarded a Rutherford Discovery Fellowship for research titled 'Tools for our future: Harnessing NZ-specific advanced cancer models to drive research discovery in Aotearoa'
Published on 27 Whiringa-ā-nuku October 2023
Biography
Dr Emma Nolan is a Research Fellow and Principal Investigator at the Auckland Cancer Society Research Centre. She completed her PhD in 2017 at the Walter and Eliza Hall Institute of Medical Research and the University of Melbourne, receiving the Chancellor's Prize for excellence for her thesis. Her PhD research also received the Premier's Award for Health and Medical Research – awarded by the Australian government to the top early career researcher in the state of Victoria. After this, Dr Nolan worked as a Senior Postdoctoral Fellow at the Francis Crick Institute in London before returning to Aotearoa in 2022 on an Auckland Medical Research Foundation Douglas Goodfellow Repatriation Fellowship.
Dr Nolan is a cancer biologist with a special interest in the tumour microenvironment, tumour immunology, cancer stem cells and advanced 3D ex vivo cancer models. She has recently established a new Translational Breast Cancer Research Group at the University of Auckland, with a focus on identifying and testing new therapies for breast cancer. Her research has been published in top calibre journals including Nature Medicine, Nature, and Nature Cancer, and earlier this year she published a review article in one of the highest impact publications Cell.
Research summary
Mate ūtaetae breast cancer is the most common cancer affecting women in Aotearoa, accounting for approximately 3500 diagnoses and 700 deaths every year. Breast cancer is also currently the leading cause of death in Aotearoa for women under 65 years of age.
To better understand breast cancer and discover new therapies, Dr Nolan will use her Rutherford Discovery Fellowship to develop laboratory models that capture the complex three-dimensional (3D) structure that occurs within tumours. Tumour cells do not grow in isolation. Within a tumour, there is a complex interplay between cancer cells and normal breast tissue, including fat cells and immune cells. This exchange with normal cells influences how cancer cells grow and behave. 3D models, which use donated patient tissue grown in 'mini-tumour' scenarios, grow and respond to drugs in a similar way to the original tumour. These 3D models are rapidly replacing traditional 2D cell culture methods for the study of breast and other cancers.
This innovative cancer research platform will be the first in Aotearoa and will provide tools for cancer researchers across the country. The 3D models can be used to uncover drivers of tumour progression and drug resistance. Importantly, by using donated tissue from breast cancer patients in Aotearoa, the developed research will represent the diverse ethnicity of Aotearoa, including the culturally safe participation of wāhine Māori. This means research findings obtained using this innovative platform will have direct relevance to the unique population of Aotearoa, and will ultimately be in a position to improve breast cancer treatment for New Zealanders.