Megan Leask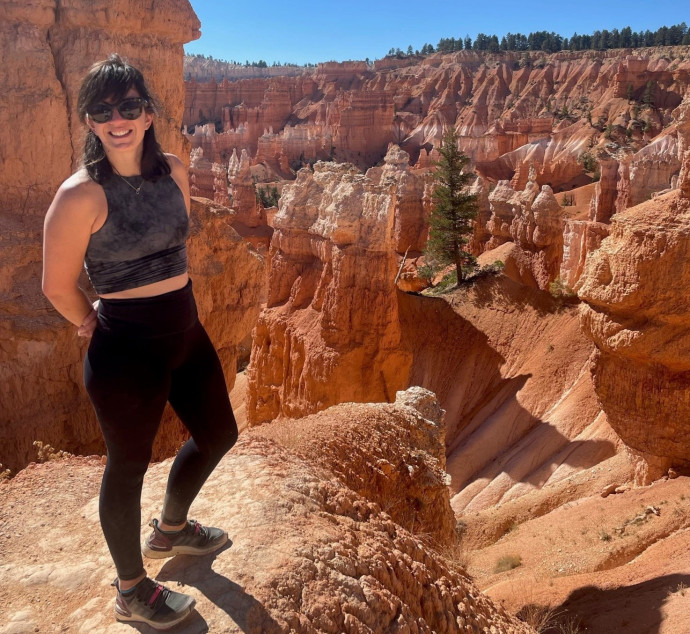 Dr Leask at Bryce Canyon in Utah. Photo: Supplied
2023: Dr Megan Leask, Te Whare Wānanga o Ōtākou University of Otago, has been awarded a Rutherford Discovery Fellowship for research titled 'Omics and molecular strategies for precision medicine target discovery in Māori and Pacific peoples'
Published on 27 Whiringa-ā-nuku October 2023
Biography
Dr Megan Leask (Kāi Tahu, Kāti Māmoe) is a Pūkeka Lecturer and Honorary Research Fellow at the University of Otago and holds positions at the University of Alabama at Birmingham (USA) as a Variant Bio Standley Fellow and Instructor. In 2014 she received her PhD in genetics from the University of Otago and now has a stellar track record of publications in a range of scientific journals. Her research interests centre on the genetics of complex disease, with specific expertise in the genetics of Māori and Pacific peoples.
As an emerging leader in the field of human genetics, Dr Leask's research is highly regarded by field experts and receives attention from international press including ScienceDaily and New Scientist. She has been the recipient of millions of dollars in research funding. Prestigious awards include the Health Research Council (HRC) of New Zealand Emerging Research First Grant and Marsden Fund grants.
Research summary
Incidence of metabolic conditions, such as type-2 diabetes, chronic kidney disease, cardiovascular disease, and gout, are increasing worldwide at an alarming rate. Those affected live shorter lives with higher morbidity and cause a substantial load on the healthcare system. A 'precision medicine' approach involves tailoring care to individuals based on genetic and environmental information for cardiometabolic diseases, and promises to save lives, improve quality of life, and lower medical costs. However, the genetic studies and databases driving these revolutionary advances largely lack Māori and Pacific participation. Given Māori and Pacific people have a well-established genetic component to metabolic conditions, this creates a massive inequity and threatens to exacerbate existing health inequities in Aotearoa.
During her Rutherford Discovery Fellowship, Dr Leask will address the 'precision medicine gap' for Māori and Pacific people. She will apply an 'omics strategy' (using substantial genetic, transcriptomic and metabolomic data) that will hone in on important genetic contributors of metabolic disease in Māori and Pacific peoples and untangle the molecular mechanisms and metabolic pathways underpinning these unique genetics. These analyses have the power to identify promising Māori and Pacific precision medicine targets for clinical care.
Finally, in a genuine commitment to directly addresses inequity in research, Dr Leask will train and mentor the next generation of Māori and Pacific genetics experts throughout the project, making this project impactful on multiple sectors of society.