Natalia (Amy) Yewdall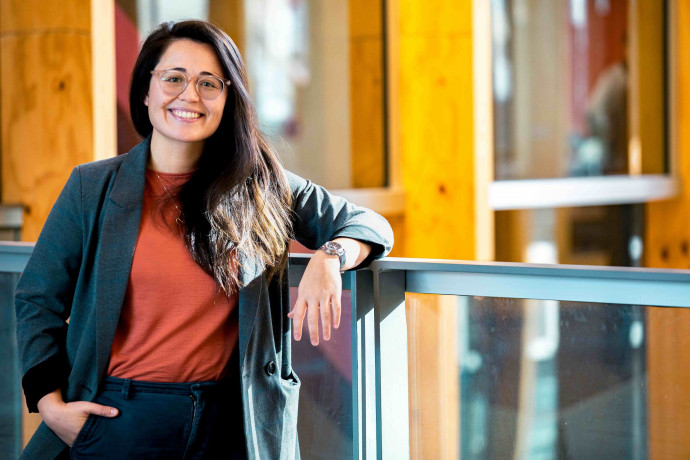 Dr Amy Yewdall. Photo: University of Canterbury
2023: Dr Natalia (Amy) Yewdall from Te Whare Wānanga o Waitaha the University of Canterbury has been awarded a Rutherford Discovery Fellowship for research titled 'Enhancing enzyme networks in condensates for carbon capture and sustainable synthesis'
Published on 27 Whiringa-ā-nuku October 2023
Biography
Dr Amy Yewdall gained her PhD in Biochemistry in 2017 from the University of Canterbury. She moved to the Netherlands to further her research at Eindhoven University of Technology, followed by Radboud University. This year, she returned to the University of Canterbury, bringing her expertise, which is centred at the intersection of biochemistry, biophysics, and protein engineering. Her research examines 'biomolecular condensates'. Her recent work on the material properties of 'condensates' made from RNA and proteins was published in the prestigious Biophysical Journal, and was highlighted as one of the best papers of 2022.
Across her interdisciplinary career, Dr Yewdall has trained in and built strong research links with world-class laboratories in Cambridge, Oxford, and the Netherlands. She founded two organisations while in the Netherlands – the Eindhoven University of Technology Postdoc Association and SynBioNL – and upon her return to Aotearoa, she has energised and organised the New Zealand chapter of Synthetic Biology Australasia. With such a strong track record in leading organisational and outreach initiatives, Dr Yewdall has a passion for bringing people together to tackle scientific and societal challenges.
Research summary
All living organisms use enzymes to convert one thing to another. These proteins can speed up chemical reactions, change an inactive molecule to an active one, along with lots of other important biological functions. Enzyme networks rarely function at their full potential outside of living systems. In part, this is because the test tube environment is not the same as the cellular environment. Dr Yewdall has optimised a groundbreaking system that can keep enzymes working at their best outside of cells – an innovation that could potentially revolutionise synthetic chemistry.
A Rutherford Discovery Fellowship will enable Dr Yewdall to create enzyme-enhancing microenvironments within droplet-based compartments, called 'condensates' that better mimic the cellular environment. She aims to use these condensates to make artificial environments that improve enzyme efficiency and transform carbon dioxide into useful, high-value products such as molecules for biofuels and bioplastics.
Preliminary research to optimise the methods has already been carried out, with Dr Yewdall's expertise on protein organisation giving her the unique capability to lead this research programme. With condensates having the potential to mimic cellular biosynthesis, this exciting programme will have far-reaching implications for a variety of fields locally and internationally.