Rebecca Lawton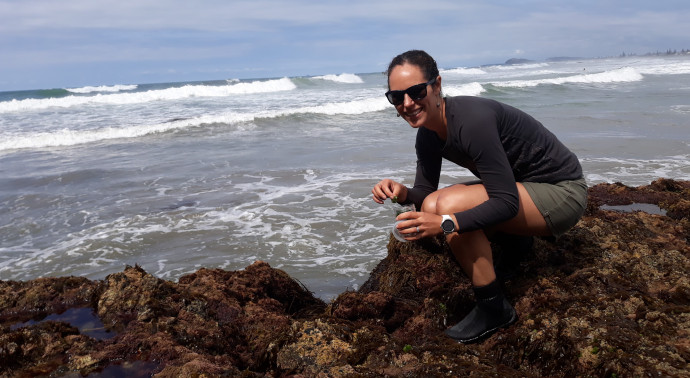 Dr Rebecca Lawton. Photo: Supplied.
2023: Dr Rebecca Lawton, Te Whare Wānanga o Waikato University of Waikato, has been awarded a Rutherford Discovery Fellowship for research titled 'Help for kelp in a warming world: A multi-disciplinary toolkit to identify resilience and improve heat tolerance of kelp for restoration and aquaculture'
Published on 27 Whiringa-ā-nuku October 2023
Biography
Dr Rebecca Lawton is a Senior Lecturer at the University of Waikato and an international leader in the field of aquaculture and its commercialisation. In 2012, Dr Lawton received her PhD in marine biology from the James Cook University in Australia and was the recipient of the University Dean's Award in 2013. She is also the youngest Associate Editor of Algal Research – a top tier journal in her discipline.
Dr Lawton uses the fundamentals of genetics and algal ecology to optimise algal productivity and product quality. Her research has led to significant commercialisation projects and multimillion dollar investment by companies such as bioremediation wastewater treatment company Aquacuro and by government and private investors in Greenwave Aotearoa–a regenerative ocean farming pilot. She has written several regional council environmental publications and reports and is active in the community through various outreach activities, hosting schools and dignitaries alike. With a Rutherford Discovery Fellowship, Dr Lawton will build a research team in the field of kelp restoration, integrating aquaculture and iwi and community involvement.
Research summary
Kelp forests cover almost a third of the world's coastlines, providing habitat, shelter, and food to a diverse array of organisms. Kelp also accounts for more than 40% of global seaweed aquaculture production, worth an estimated US$6.3 billion per year. For Māori, kelp was traditionally used to transport and relocate shellfish, was preserved as a food source, and some species remain culturally valued taonga.
Kelp populations worldwide are increasingly threatened by ocean warming and marine heatwaves, declining at twice the annual rate of coral reefs and four times faster than rainforests. Significant efforts are required to restore natural kelp populations; however, traditional methods to identify and improve tolerance to the increasing heat are no longer adequate.
Through this Rutherford Discovery Fellowship, Dr Lawton will create a biological sciences 'toolkit' for identifying, mapping, and improving heat tolerance of the common kelp species Ecklonia radiata. She will combine physiological experiments with metabolomics to identify biomarkers of heat tolerance in Ecklonia which can be used to identify heat tolerant varieties. She will expose the kelp to a range of heat stresses to identify treatments that improve the heat tolerance of one or more life history stages of Ecklonia, allowing for identification of potentially new pathways to increase climate resilience. This toolkit will then be incorporated into a mātauranga Māori-informed approach to co-design and co-implement kelp restoration in partnership with Ngāti Whakahemo.
This fellowship will provide a practical example of how cutting-edge scientific techniques can integrate with Māori worldviews to build capacity and enhance restoration success. Additionally, this project will contribute to the UN Decade on Ecosystem Restoration (2021-2030), placing Aotearoa as a global leader in the development of innovative approaches for future proofing seaweed aquaculture.