Rosie Brown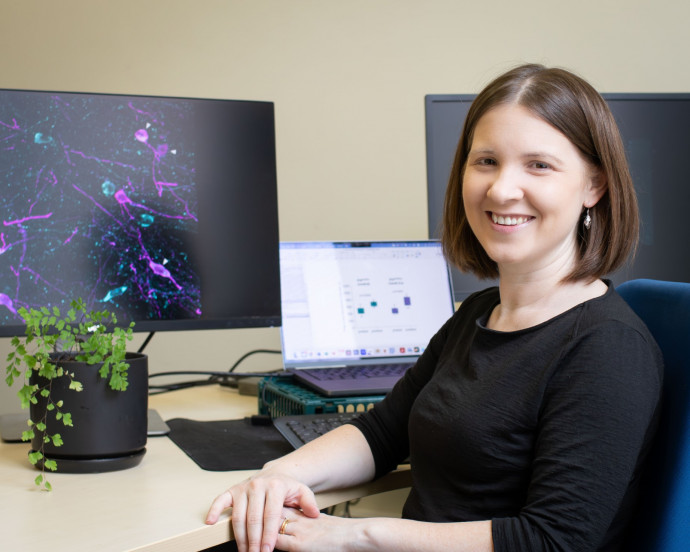 Dr Rosie Brown. Photo: Supplied
2023: Dr Rosie Brown, Te Whare Wānanga o Ōtākou University of Otago, has been awarded a Rutherford Discovery Fellowship for research titled 'Wiring the brain for motherhood: The critical role of hormones in maternal mood and behaviour'.
Published on 27 Whiringa-ā-nuku October 2023
Biography
Dr Rosie Brown is a Senior Lecturer in the Department of Physiology at Te Whare Wānanga o Ōtākou University of Otago, having completed her undergraduate and postgraduate studies at the same organisation. Dr Brown was awarded a Marsden Fund Fast-Start grant in 2017, quickly followed by a University of Otago Early Career Award for Distinction in Research, a Michael Harbuz Young Investigator Prize from the British Society of Neuroendocrinology, and a Health Research Council of New Zealand (HRC) Sir Charles Hercus Fellowship in 2018. Dr Brown has since received more funding from the Marsden Fund and HRC, evidence of her excellence in her research field.
Dr Brown is interested in how hormones modulate social behaviour, with a particular focus on maternal behaviour. She also has a long-standing interest in the diverse actions of the pituitary hormone prolactin on the brain. A rising leader in the parental behaviour research field internationally, Dr Brown is passionate about the widespread societal implications of healthy mother-infant interactions.
Research summary
All mammals, including humans, give birth to highly dependent young that must be nourished with milk and nurtured to ensure optimal growth and development. However, the transition to parenthood is not easy for many people that give birth. Postpartum mood disorders affect 14% of those who give birth in Aotearoa, a potentially significant barrier for healthy interactions with an infant. Research shows that a child's interactions in the first few years of life are critically important to their development and can have lifelong consequences.
Dr Brown has studied mice to demonstrate key roles of hormones in regulating multiple aspects of a parent's behaviour. In particular, the action of hormones in the medial preoptic area (MPOA) of the brain is essential for both parents' behaviour and the survival of offspring. However, the mechanism by which these hormones act in the MPOA remains a mystery. Much of Dr Brown's work to date has focused on the role prolactin plays in stimulating parental behaviour, but new data suggests that sensitivity to the hormone progesterone is altered in key MPOA neurons and can also regulate parental behaviour.
During her Rutherford Discovery Fellowship, Dr Brown will use her expertise in hormonal modulation of parental behaviour to investigate how progesterone regulates parental behaviour. Using cutting edge neuroscience tools, Dr Brown will define how the progesterone signalling circuits in the MPOA regulate maternal behaviour. She will also determine the functional impact of progesterone during the pregnancy and postpartum transitions and establish if modulation of progesterone signalling in the MPOA can regulate parental behaviour in a preclinical model of postpartum mood disorder. Dr Brown believes that a better understanding of how hormones act on neural circuitry is critical to developing strategies to help whānau across Aotearoa by improving postpartum mental health.