Kelly Blincoe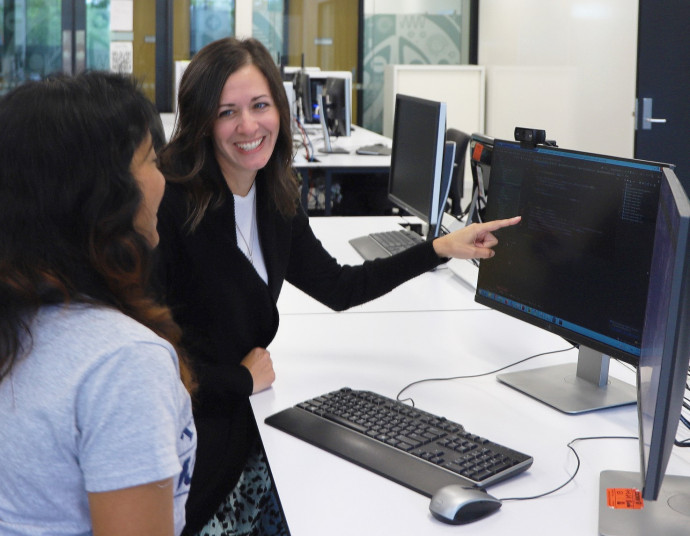 Dr Kelly Blincoe (right) one of her PhD students, Dhanushka Jayasuriya (left). Photo credit: Radhika Lucas from the University of Auckland.
2022: Dr Kelly Blincoe, from Waipapa Tamata Rau University of Auckland, has been awarded a Rutherford Discovery Fellowship for research titled 'Towards more inclusive software engineering practices and tools to retain women in software engineering'
Published on 27 Whiringa-ā-nuku October 2022
Biography
Dr Kelly Blincoe gained her PhD in Computer Science in 2014 at Drexel University, USA before a year of Postdoctoral research at the University of Victoria, Canada. In 2015, she took up a lectureship at Auckland University of Technology, then moved to The University of Auckland in 2016, where she is currently a Senior Lecturer. Prior to her PhD, Dr Blincoe worked in the software industry for eight years designing, developing, and testing software systems.
Dr Blincoe leads an internationally recognised research team focused on software practices and processes to improve software quality and productivity. The impact of her research has been recognised through prestigious funding awards, including a Marsden Fund Fast-Start grant in 2020, and in 2021 she was part of the team awarded the Science for Technological Innovation Veracity Spearhead. Dr Blincoe serves on The University of Auckland Women in Engineering Committee where she plans events designed to support women students. As a Liaison for Diversity, Equity, and Inclusion of the ACM Special Interest Group for Software Engineering, she oversees a team to increase inclusion in the Software Engineering research community and at conferences. Dr Blincoe actively encourages her students to be allies in diversity, equity, and inclusion as they enter the software industry.
Research summary
The software industry is in a diversity crisis: only 23% of software jobs in Aotearoa are filled by women. Women also leave the industry at alarming rates and those who stay report low satisfaction and high rates of gender discrimination. Recent efforts to improve gender diversity in many organisations have not been successful. Studies find that women are more likely to experience biases, discrimination, and hostility in the software industry. Software practices and tools themselves may contribute to low satisfaction and turnover. It is imperative that this diversity crisis is addressed for both industry professionals and software users; when software is created by diverse teams, it tends to be more inclusive since more diverse perspectives are considered in its creation.
In her Rutherford Discovery Fellowship, Dr Blincoe will investigate how to create more inclusive software practices and tools to retain women in software engineering. Firstly, she will examine the experiences of women in software that lead to low satisfaction and turnover by undertaking a five-year longitudinal study; the first of its kind looking at these issues. Two hundred participants with a balance of genders will be recruited to enable a comparison. Dr Blincoe will investigate the factors that lead women to become dissatisfied or to leave the software industry through a series of questionnaires and interviews. These findings will feed into developing software engineering tools and practices to be more gender inclusive. In addition, through a series of lab experiments, Dr Blincoe will observe first-time users of commonly used current software practices and development tools, enabling problems with existing practices and tools to be identified. The data will be used to formulate ways to make these tools and practices more gender inclusive, and these methods will be validated in follow-up experiments.
The output of Dr Blincoe's research programme will be a framework of best practices and tool design principles to be used by the sector. As software continues to be an integral part of society, it is important to find evidence supported ways to improve gender diversity in software engineering. In doing so, we may all benefit from the expansion of perspectives which craft our software experiences.