Simon Barker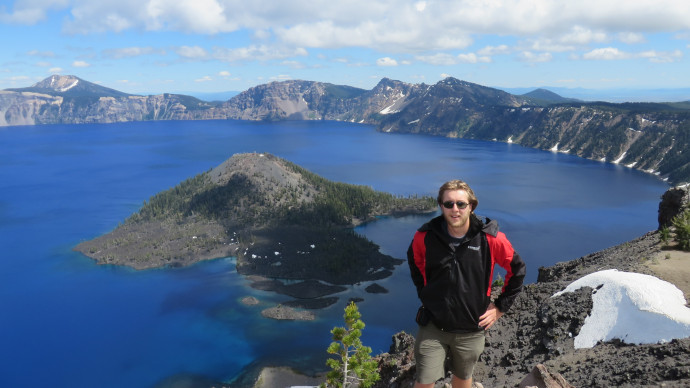 Dr Simon Barker doing fieldwork at Crater Lake, USA. Photo: Supplied.
2023: Dr Simon Barker from Te Herenga Waka—Victoria University of Wellington has been awarded a Rutherford Discovery Fellowship for research titled 'Magma forensics at New Zealand volcanoes: Understanding the magmatic systems and processes that drive eruptions'.
Published on 27 Whiringa-ā-nuku October 2023
Biography
Dr Simon Barker received his PhD in Geology in 2014 from Te Herenga Waka—Victoria University of Wellington. Since then, he has published research outputs widely in international journals including one outstanding publication that earned him the Werner F. Giggenbach Medal for "Young Geochemist of the Year" from the Geoscience Society of New Zealand. He is also the recipient of two prestigious Marsden Fund grants to support his research endeavours.
Dr Barker's expertise includes physical volcanology, petrology, and eruption dynamics. He aims to develop new techniques to study magmatic systems and the timing and impacts of explosive volcanic eruptions. He enjoys communicating science and is the face of New Zealand volcanology at the Auckland Museum where he appears in a mock news report seen by more than 900,000 visitors annually. His long-term goal is to drive a step-change in volcanic research, monitoring, and hazard communication to better prepare Aotearoa for future eruptions.
Research summary
Recent volcanic eruptions such as Whakaari in 2019 and Hunga Tonga in 2022 are stark reminders that eruption forecasting is inherently difficult, despite modern high-tech instrumentation and monitoring networks. Part of the difficultly lies in the fact that each volcanic system is unique and the physical processes driving eruptions can greatly vary between different volcanoes and their conditions. Effective monitoring and hazard mitigation requires a detailed understanding of individual volcanic systems and the ability to relate signals of volcanic unrest to known context, such as timing and potential eruption triggers.
Aotearoa hosts a wide range of volcano types with substantial destructive potential. However, there is a crucial knowledge gap around the deep processes that trigger magma movement and drive the system to reach a tipping point and suddenly erupt. Dr Simon Barker has been awarded a Rutherford Discovery Fellowship to aid in interpreting unrest signals and better prepare the country for future volcanic activity.
Working with a team of Māori, New Zealand-based, and international experts, this fellowship will revolutionise understanding of New Zealand volcanoes. The team will investigate the monitoring signals that put into context the potential size, timing, and location of the eruptions of active volcanoes and the processes that cause them to erupt.
Dr Barker will sample past eruptive deposits (ash and lavas) and use high-resolution micro-analytical geochemical techniques, interfaced with geophysical observations and numerical modelling. Combining field geology with micron-level analysis of the products of past eruptions, such as volcanic rocks, glasses and crystals, will allow them to generate volcano-specific models for the entire range of volcano types in the central North Island. Importantly, the results of this work will be communicated with key groups including GeoNet, Civil Defence, emergency managers, the public, and mana whenua who play a vital role in volcano management, community response and building resilience to what lies beneath.