Elizabeth Macpherson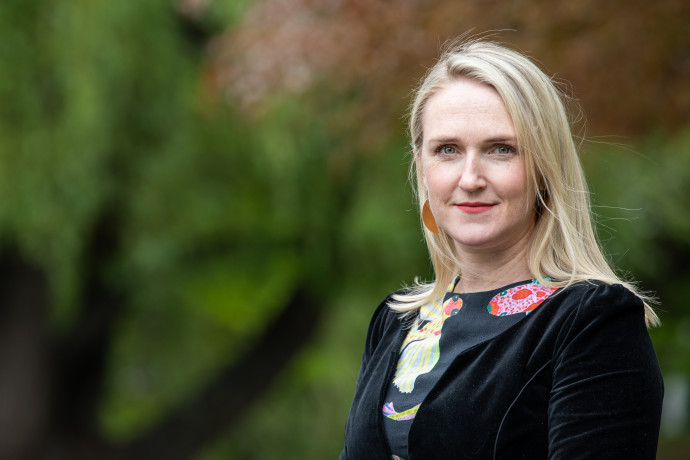 Associate Professor Macpherson. Photo: Supplied
2023: Associate Professor Elizabeth Macpherson, Te Whare Wānanga o Waitaha University of Canterbury, has been awarded a Rutherford Discovery Fellowship for research titled 'Blue carbon futures in Aotearoa New Zealand: Law, climate, resilience'.

Published on 27 Whiringa-ā-nuku October 2023
Biography
Associate Professor Macpherson's expertise is in environmental and natural resources law. Her scholarly work on opportunities for global Indigenous peoples' water rights in laws and policies earned her the Royal Society Te Apārangi Early Career Researcher Excellence Award for Humanities in 2021. Associate Professor Macpherson's commitment to Tiriti-led research is rooted in over 20 years' legal and policy service to Māori, building trusted relationships with iwi and hapū across Aotearoa.
Among other leadership roles, she is currently Principal Investigator for the Sustainable Seas National Science Challenge, leading a body of work on law and policy for ecosystem-based management, as well as a project for the Ministry of Primary Industries (MPI) that focuses on climate maladaptation in Aotearoa. Used by governments and Indigenous peoples around the world, Associate Professor Macpherson's research has a real-world impact on some of the most pressing socio-environmental challenges of our time.
Research summary
'Blue carbon' refers to carbon dioxide stored in coastal aquatic ecosystems spanning saltmarshes, mangroves, seagrass meadows, and wetlands. These systems can store significantly more carbon than forests, filter pollutants from run-off, provide critical wildlife habitats, and act as a buffer from storm surges and coastal erosion. Blue carbon offers untapped opportunities for Indigenous people to lead climate responses while developing 'blue economies' and enhancing food security. For these reasons, several countries have begun including blue carbon storage in their national emission trading schemes. Despite this growing interest in the potential of blue carbon, very little is known about its legal implications or the legal frameworks to support it.
Aotearoa New Zealand's extensive shoreline means 65% of our population is living within 5km of the coast. Meaningful Māori relationships with the moana and a record of trailblazing legal achievements make Aotearoa an ideal place to lead global research in the fast-evolving blue carbon sphere. It is crucial for blue carbon legal frameworks to foreground Tiriti-partnerships for a just and resilient future. Accordingly, Associate Professor Macpherson's new Rutherford Discovery Fellowship will be developed in partnership with te iwi o Ngāi Tahu, including collaboration with world-leading environmental governance experts Dr John Reid (University of Canterbury/Ngāi Tahu Centre, Ngāti Pikiao) and Dr Karen Fisher (The University of Auckland, Ngāti Maniapoto, Waikato-Tainui).