Julie Deslippe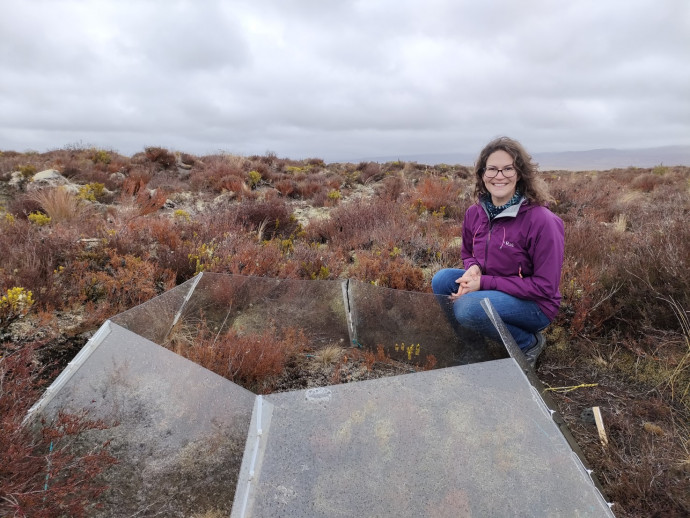 Dr Julie Deslippe at one the field sites in Tongariro National Park. Photo credit: Janelle Veenendaal
2022: Dr Julie Deslippe, from Te Heranga Waka Victoria University of Wellington, has been awarded a Rutherford Discovery Fellowship for research titled 'Plant-soil interactions, biodiversity and mountain ecosystem function in an era of global change'
Published on 27 Whiringa-ā-nuku October 2022
Biography
Dr Julie Deslippe leads a vibrant and diverse research programme focused on understanding the complex plant-soil systems that sustain life on Earth. After receiving her PhD in Forest Science in 2010 from the University of British Columbia, Canada, she came to Aotearoa for a Postdoctoral fellowship at Manaaki Whenua Landcare Research. In 2014 she took up a lectureship position at Te Herenga Waka Victoria University of Wellington where she was promoted to Senior Lecturer and Deputy Director of the Centre for Biodiversity and Restoration Ecology in 2019.
Dr Deslippe's intellectual creativity has been recognized through several successful research grants from the Marsden Fund (Fast Start and Standard), MBIE (Catalyst and Vision Mātauranga), the Holdsworth Trust, and the Bioprotection Aotearoa Centre of Research Excellence where she also co-leads the Understanding Ecosystem Health programme.
Her emerging research leadership is well recognised internationally through high impact papers. Her work has been cited more than 2100 times including a manuscript "among the top 2% of published articles in biology and medicine". Over the past few years, she has nurtured a network of collaborative relationships with governmental and non-governmental organisations, iwi and hapū groups, and biophysical and social scientists in Aotearoa and around the world.
Research summary
Climate change and species invasions threaten the stability and biodiversity of mountain ecosystems in Aotearoa and around the world. Plants are the gatekeepers of the vast reservoir of carbon in soils, but the stability, composition and diversity of plant communities depends on a close ecological relationship with their symbiotic soil fungi, called mycorrhizas. Plants trade sugars with mycorrhizal fungi in exchange for soil nutrients, with these interactions having profound effects on plant survival, growth, and interaction with other plants and animals. Plant-mycorrhizal interactions are likely to be the key mechanism that determines the response of mountain ecosystems to climate change, but they remain poorly understood by scientists.
In her Rutherford Discovery Fellowship, Dr Deslippe will investigate the details behind plant interactions with mycorrhizal fungi, capitalising on her connections through the WaRM (Warming and Removals in Mountains) network. This collaboration of field experiments across ten countries provides an unparalleled opportunity to develop an understanding of plant-mycorrhizal control on the carbon cycle. Dr Deslippe will use DNA sequencing technology, inventive carbon-tracking, and state-of-the-art ecological modelling to determine how changes in biodiversity and climate alter this key ecosystem function. In tackling this grand challenge, her research aims to underpin effective bi-cultural management the unique biological heritage in Aotearoa and deliver vital tools to support native biodiversity worldwide.