Mathew Anker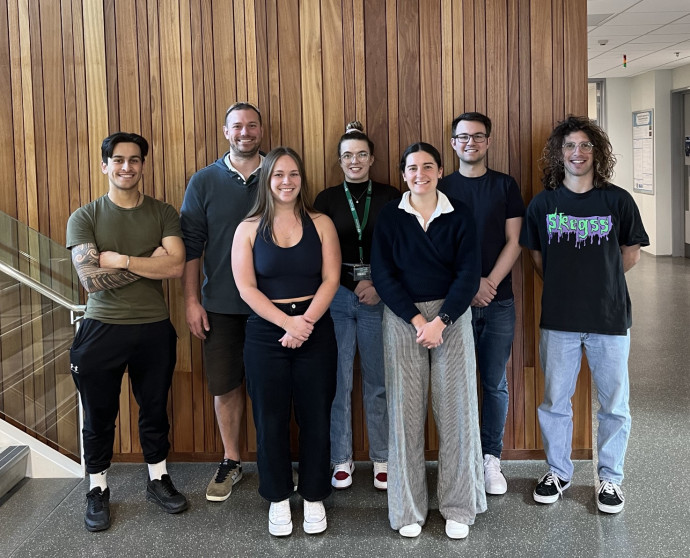 Mat Anker and research group, (L to R) Tiahn Manuel, Mat Anker, Georgia Richardson, Tylah Sweet, Sophie Unsworth, Finlay Burke and Henri LeSueur. Photo: Supplied.
2022: Dr Mathew Anker, from Te Herenga Waka Victoria University of Wellington, has been awarded a Rutherford Discovery Fellowship for research titled 'Lanthanide(II) Hydrides for Nitrogen Fixation and Ammonia Production'
Published on 27 Whiringa-ā-nuku October 2022
Biography
Dr Mathew Anker is an expert in organometallic chemistry. He received his PhD from the University of Bath in 2017 and went on to a Postdoctoral Fellowship at Te Herenga Waka Victoria University of Wellington. In 2019 he was promoted to Lecturer in the School of Chemical and Physical Sciences where he conducts his research with a tightknit team of talented postgraduate students. He is also an Associate Investigator with the MacDiarmid Institute.
Dr Anker is an emerging world leader in the synthesis and catalytic use of low valent organometallic complexes. He uses a combination of experimental and computational methods to design and optimise catalytic transformations. His work has already generated significant scholarly and industrial interest, with one of his complexes having potential in the green plastics market and currently undergoing patent protection around the world. He has also received numerous early career awards including a Marsden Fund Fast-Start grant.
Research summary
When we think of fossil fuel products we often think of petrol, oils, and plastics. But do you think about kai? Half of global food production currently relies on ammonia fertilisers made from fossil fuels. The fossil fuels used in ammonia production account for 1% of global carbon dioxide emissions. In comparison, air travel – a common climate talking point – accounts for about 2.5% of our global carbon dioxide emissions.
During his Rutherford Discovery Fellowship, Dr Anker will develop a new methodology for making ammonia that doesn't require harsh, fossil-fuel, based conditions. Dr Anker recently published a high-profile paper describing the synthesis of a highly reactive lanthanide(II) hydride complex. Using this as a starting point, he'll enhance the complex to activate nitrogen – one of the most challenging molecules to activate in chemistry. Exposing activated nitrogen to hydrogen gas then generates ammonia and regenerates the lanthanide(II) complex. Such a system is highly suitable for industrial scale production of ammonia fertilisers without the requirement for high temperature and high pressure, and therefore the need for fossil fuels.
If ammonia can be produced under these conditions it will transform the worldwide economy of fertilisers, placing Aotearoa at the centre of this new renewable, carbon-neutral fertilizer world, with environmentally friendly kai on our tables.