Diana Rae Martin
BSc, MSc Hons, PhD, FRSNZ, ONZM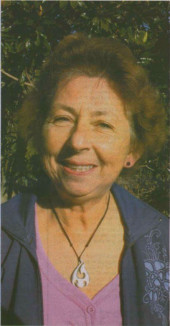 Dr Diana Martin was born in Wellington on 7 February 1942. She was a renowned New Zealand microbiologist who contributed greatly to public health in New Zealand through her work on streptococcal disease, rheumatic fever and meningococcal disease. Diana had a long history of research into the characteristics and epidemiology of bacteria causing invasive diseases. Diana gained her BSc (1963) and MSc Hons (1965) in microbiology at the University of Otago. In 1966, she started her professional career as a scientist in the Department of Health Cross Infection Unit at the National Health Institute (NHI), Wellington. From 1968 to1971, she was Scientist-in-Charge, Pseudomonas Laboratory at the Central Public Health Laboratory, London. Whilst there, she studied for her PhD on the microbial epidemiology of Pseudomonas at the University of London. On her return to New Zealand, Diana tutored in microbiology at Wellington Polytechnic from 1972 to1974. From 1975 on Diana worked for NHI and its successor organisations, the NZ Communicable Disease Centre (NZCDC) and the Institute of Environmental Science and Research (ESR) until she retired in February 2011.
On her return to NHI, Diana's primary role was to establish typing of Group A Streptococcus isolates to identify the prevalent types in New Zealand which caused the serious sequelae of rheumatic fever (RF) and acute glomerulonephritis (AGN). Diana formed collaborations with many international researchers, including the WHO Reference Laboratory in Prague, so that the WHO typing methods could be introduced. The New Zealand Streptococcal Laboratory later became a Collaborating WHO Reference Laboratory sharing materials and streptococcal isolates. Over the next 16 years she assumed responsibility for the Staphylococcal Laboratory and the Nosocomial Infections Laboratory. In 1996, Diana was appointed Senior Scientist/Managing Scientist, Special Pathogens Group, ESR, and was responsible for work on invasive bacterial infections, especially bacterial meningitis, streptococcal infections, zoonoses, legionellosis, and emerging bacterial pathogens. Her final position at ESR was as Principal Scientist, Invasive Pathogens Laboratory which she held until 2011.
Diana's major research focus until the early 1990s was characterising streptococcal strains isolated from throat and skin infections. Initially, traditional serological methods (T Typing and M Typing) were established, then molecular methods replaced M typing and Diana characteristically embraced the new technology, introducing emm typing, which identifies strains by sequencing a genome segment. Joint community studies with clinicians were set up to study the prevalence of different streptococcal types and their association with RF and AGN sequelae. Rheumatic fever causes cardiovascular disease and permanent heart damage but is preventable if the preceding streptococcal infection is identified and treated early.
This work addressed a unique infectious disease problem in New Zealand which has rates of RF comparable with third world countries, especially in Maori and Pacific children. Family and school studies provided information on population demographics, streptococcal characteristics in RF and AGN cases, and trialled prevention and control strategies. Rheumatic fever normally follows streptococcal throat infections, however Diana's team found that New Zealand M types differed from those traditionally associated with RF cases overseas and, in some cases, RF also followed skin infection. Streptococci isolated from AGN cases, a serious kidney disease resulting from streptococcal infection of either the throat or skin, were also investigated.
While the first half of Diana's career was dominated by the Group A Streptococcus, the second half was dominated by an even more deadly bacterium, Neisseria meningitidis (the meningococcus). Commencing in 1991, a prolonged epidemic of Group B meningococcal disease resulted in one of the largest public health projects undertaken in New Zealand. Disease rates rose from 1.5 cases per 100,000 population to peak at 17.4 per 100,000 in 2001. Diana and her team played pivotal roles in tracking progress of the epidemic and identifying the causal dominant Group B strain. This was followed by the development and testing of a tailor-made vaccine to control the epidemic. The vaccine project required strong collaborations with public health authorities and scientists both in New Zealand and internationally. At the start of the New Zealand epidemic, Diana and her team rapidly established both traditional phenotypic and novel molecular methods to further characterise the meningococcus, particularly the outer membrane proteins (OMPs). The PorA OMP, known to stimulate protective antibody, was very important in the development of a specific vaccine which targeted the P1.7-2,4 subtype of the epidemic strain.
From 1995, Diana was a key member of the team advising the Ministry of Health's Meningococcal Vaccine Strategy on a vaccine to control New Zealand's epidemic. Diana was involved in extensive consultations with the Norwegian Institute of Public Health (NIPH) and the Finlay Institute in Cuba who had both used tailor-made outer membrane vesicle (OMV) vaccines in their countries to control Group B meningococcal epidemics caused by different PorA subtypes. This led to a partnership between vaccine manufacturer Chiron and the Ministry of Health in collaboration with NIPH, to develop and produce a strain-specific Group B meningococcal OMV vaccine for New Zealand (MeNZB™). Given that the limited New Zealand market was not a financially attractive proposition for a vaccine manufacturer, this achievement was a testament to the persuasive powers of Diana and her clinical colleagues.
Following the decision to develop the MeNZB vaccine, Diana approached her next challenge - to set up the serum bactericidal assay (SBA). This assay measured protective antibodies and was used in the clinical trials of MeNZB to evaluate immune responses to the vaccine. The results demonstrated that 3 vaccine doses were immunogenic in the target age groups for vaccination. These results and the clinical trial safety data, cumulated in MeNZB being offered from 2004 to all children and young adults under 20 years of age.
While the disease rates peaked 3 years before the start of the MeNZB vaccination campaign, rates continued to decline in subsequent years so that by 2000 the rate was 2.2 cases per 100,000 and almost back to pre-epidemic levels. Following the clinical trials, Diana's team continued to use the SBA in follow-up studies on the immunogenicity of MeNZB, including the persistence of antibodies, the effect of a 4th booster dose and ongoing antibody studies. Her team also participated in research on 'escape mutants' and vaccine breakthrough cases.
Diana received many awards recognising her scientific achievements during her career. The most eminent was being elected a Fellow of the Royal Society in 2000 and being appointed an Officer of the New Zealand Order of Merit for services to microbiology in 2008. Diana served on and convened the Royal Society's Committee on Microbiology. She was active in the New Zealand Microbiological Society, being elected as the Society's President in 1986 and Distinguished Orator in 2002. In 1996 Diana's achievements were recognised by ESR, who appointed her a Principal Scientist, a position reserved for elite scientists that have gained an international reputation in their field, and awarded her an ESR Senior Fellowship in 1998.
During her career, Diana was co-author of over 120 refereed papers. She wrote four book chapters and over 30 significant reports and conference proceedings. Diana supervised and mentored six PhD students, was external examiner for several PhD theses, and gave lectures at Wellington Clinical School, University of Otago for many years. Diana was the principal investigator on many successful grants for streptococcal and meningococcal research. She also initiated and maintained formal international collaborations with leading streptococcal and meningococcal researchers and was often an invited speaker at international conferences.
Given Diana's extensive experience, she was frequently invited to serve on Advisory and Expert Groups both in New Zealand and internationally, including several WHO advisory groups. She was a ministerial appointee to the Wellington Regional Ethics Committee and the Marsden Fund Council. Diana was an external referee for numerous research funding organisations and several scientific journals.
Diana had a lively personality and was well-liked and widely respected by her scientific and medical colleagues internationally and in New Zealand. She always worked hard, instilled good workmanship and quality standards in her teams and encouraged them to achieve their goals. Diana passed away after a long, debilitating illness. She is survived by her husband Peter, her children Paul and Nicola, granddaughter Jessica and sisters Karen and Sonia.
Written by Gail Greening and Helen Heffernan with helpful assistance from Kristin Dyet.