Peter Leonard Bergquist
M.Sc. Hons I, New Zealand, Ph.D. (Auckland), D.Sc. (Auckland), FRSNZ, ONZM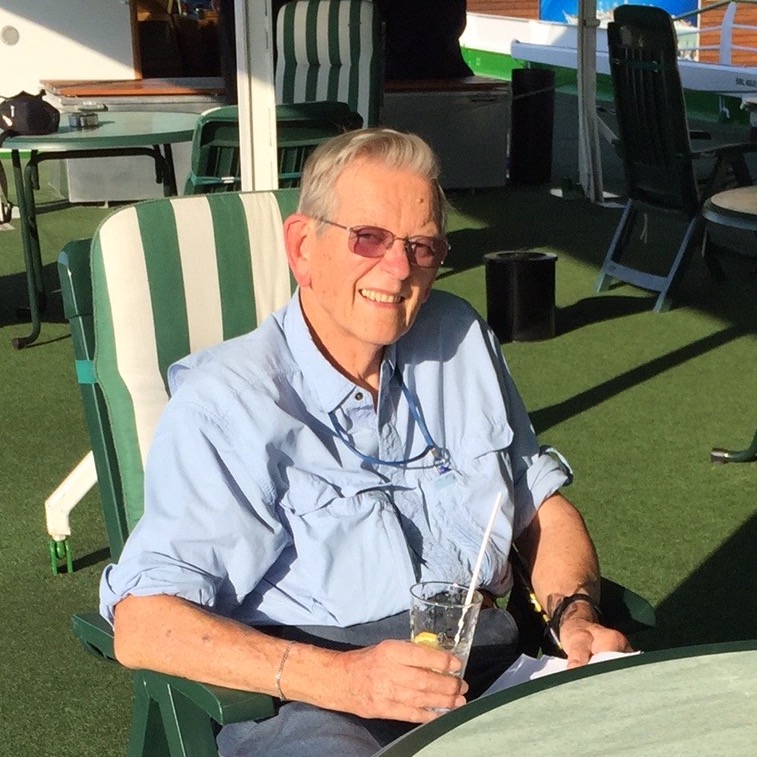 The Authors of this tribute have all had their lives and careers enriched by Peter's intelligence and kindness and by his innovative approach to research. We record a brief synopsis of his life and then detail his contributions to science with thanks to his colleagues.
Peter was born in Auckland on 29 August 1934. His mother Clarice was a seamstress, and his father Ray was a shopkeeper. Peter grew up in central Auckland. He attended Auckland Grammar School and Auckland University. He completed his PhD at Auckland University and was awarded D.Sc. in 1989. He married a fellow scientist Patricia Rose Smyth on 5 July 1958. They had one daughter Claire.
As a child Peter would spend his weekends camping, fishing and sailing. Under his father's guidance Peter built his first sailing boat when he was 8 which established a lifelong love of sailing. He had to make a difficult choice between sailing competitively in Z classes or a career in science. Luckily for science, science won. He continued his affinity with the sea by windsurfing at every opportunity until recently when his back collapsed and needed surgical intervention by way of 3 spinal fusions. Unfortunately those were unsuccessful so his past-time became fishing from his boat in the Hauraki Gulf. He is survived by a younger brother Ian who chose a career in the arts. His wife Pat (also a distinguished scientist) and daughter Claire, both predeceased him.
He loved opera and classical music and was a very proficient cook. He travelled extensively during his life, which also included regular commuting across the Tasman to work in Sydney at Macquarie University after 1994. Over recent years he continued to make 2 major trips overseas each year in addition to regular ones to Sydney; either to Europe or the States. These trips were always predicated round attendance at a conference of his special interest in Thermophilic organisms. He would always factor in additional time in Paris or London to take in an art exhibition or two. This would include either a visit to the National Gallery in London or Musée d'Orsay in Paris to pursue his interest in Impressionist Masters.
Professor Bergquist was a world-renowned molecular biologist, who has pioneered techniques in cloning and expressing genes from thermophilic organisms and extremophiles organisms that thrive in high temperatures such as geothermal areas.
He was elected a Fellow of the Royal Society of New Zealand in 1974 and he was made an Officer of the New Zealand Order of Merit (ONZM) for services to science in 2012.
He developed a method for rapid identification of bacteria from extreme environments using flow cytometric analysis and developed methods in directed evolution to improve enzyme performance. He published consistently on these topics over the past 40 years and was regarded as an international authority on cloning and high level expression of genes coding for enzymes that are useful to industry. He was inventor on 13 patents, the most important of which is Pinheiro LB, Bergquist P, Gibbs M and Vesey G : Chromosomal Insertion of GFP into Bacteria for Quality Control. (PCT W02005AU0001387.) His most recent research was in the field of in vitro enzyme evolution, high level recombinant enzyme expression in filamentous fungi and yeast and synthetic gene construction and expression.
In his early career he obtained postdoctoral and research fellowships in Harvard Medical School, and in Yale and Oxford Universities and was a visiting fellow at several Universities including New York University Medical School, Université d'Aix-Marseille, Microbiology Department of Melbourne University and The Royal Postgraduate Medical School, University of London.
He was appointed Professor of Molecular Genetics at Auckland University in 1970 where he spent many years teaching, researching and serving as Assistant Vice Chancellor (Research) from 1986-1994. He was a founding Board Member of UniServices Ltd, the commercialisation arm of Auckland University.
He was formerly Adjunct Professor of Biological Sciences at Waikato University. He served for 2 terms on the Marsden Fund Council of New Zealand. He was one of the founding scientists of ZyGEM Corp formerly known as PacificGEM Ltd. That successful biotechnology company has developed products that used thermophilic enzymes for DNA profiling including human forensics and animal livestock genetic testing.
After many dramas and setbacks, a part of ZyGEM has been salvaged to emerged as a successful international company MicroGEM UK winning contracts in the US for developing a method for rapid testing of saliva for Covid-19. This test is currently awaiting FDA approval in USA. Peter's former colleague, Dr. David Saul is the Chief Scientific officer (CSO) of MicroGEM NZ, based in Dunedin and is continuing developing and producing a range of products including tests for pathogenic organisms in drinking water, use in animal husbandry and for medical diagnostics. It is sad that Peter is not around to see how one of MicroGEM's products, a saliva testing kit for Covid-19 (Spitfire 6830) is hitting the headlines. This saliva testing kit uses the PCR method of analyzing DNA, and can give a result in 25 minutes. It is currently being trialed by Sir Ian Taylor in his campaign to open up the NZ borders and to persuade the NZ Government to recognize and utilize local expertise in the fight against the spread of Covid-19.
In 1994, frustrated with funding opportunities in New Zealand for his specialist field of molecular genetics, Peter moved to Australia taking up the position of Deputy Vice Chancellor (Research) at Macquarie University in Sydney. It gave him the opportunity to explore his ideas for commercialization of science with an Australian government that was proactive on commercializing science.
He was a member of the Board of Management of three Co-Operative Research Centres in Australia (CRC's" for Mineral Exploration, Marsupial Control and Coal in Sustainable Development) and a member of the Australian Research Council Steering Committee on Industrial Collaboration. He was a board member of the Australian Proteomics Research Facility. From 1994 to 2002 he was Managing Director of Macquarie Research Ltd, Macquarie University's technology transfer company.
His research interests with the Environmental Biotechnology Co-operative Research Centre in Australia led to research expertise in gas phase enzyme catalysis and biofunctionalisation of inorganic matrices containing silica.
Peter was a Board member of Fluorotechnics Pty Ltd, a Macquarie spin-out high technology company and a founding scientist and Chief Scientific Officer of Applimex Systems Pty. Ltd. This was another spin-off company from Macquarie University that primarily worked with a Houston-based company in oil recovery from abandoned wells. His recent publications reflect research performed with the Environmental Biotechnology Co-operative Research Centre in Australia. His research interests were in synthetic biology with the construction of heterologous multienzyme cascades for the upgrading of biomass wastes to value-added chemical precursors. Over his lifetime he published over 250 refereed papers.
He has been on the editorial boards of several significant journals such as Applied and Environmental Microbiology and the Journal of Bacteriology. He was a member of numerous government committees, both in New Zealand and Australia. With his colleagues Anwar Sunna and Andrew Care, Peter was asked two years ago to invite experts in the field of peptide research to contribute papers, for his team to collate and edit in a textbook for the Springer International Publishers on Advances in Experimental Medicine and Biology called Peptides and Peptides-based Biomaterials and their Biomedical Application. In the preface to this book Peter states "The intention of this volume was to create an awareness of the potential of peptides and to trace how and where the research has emerged and to outline the opportunities we see to develop novel and validated tools for specific biomedical therapeutic scenarios. We invite interested researchers to develop and expand applications of these versatile biomolecules." During Peter's last few days, it gave him great pleasure to monitor the number of downloads of individual chapters of this book.
On his passing Macquarie University published a tribute to Professor Bergquist in their newsletter shortly after his death as follows:
Vale Peter Bergquist (Deputy Vice-Chancellor, Research, (1994-2002)
"It is with sadness that we acknowledge the recent passing of Peter Bergquist in New Zealand aged 86.
Peter was Emeritus Professor in the Department of Molecular Science and served as the University's Deputy Vice-Chancellor (Research) from 1994-2002.
A world leader in the field of Molecular Genetics, Peter was the founder Director of the Macquarie University of Biotechnology Research Institute (MUBRI) and was awarded the Insignia of an Officer of New Zealand Order of Merit for services to science in 2012."
Until the time of this death Peter continued working closely with colleagues at Macquarie University including supervising Ph.D. student's and working with colleagues at University of Otago on a method to quickly identify contaminants in human drinking water. He was Emeritus professor in Biomolecular Discovery and Design Research Centre at Macquarie University and Emeritus professor in the Department of Molecular Medicine and Pathology at Auckland University Medical School.
Professor Bergquist continued to work actively in his field until a month before he died. He wished to be known as a synthetic biologist in this very new field. When people asked him what he did he said he was a "gene designer". He had a very dry sense of humour.
His colleagues have made the following contributions to this obituary as set out below:
Dr Don Cowan (University of Pretoria, South Africa)
"I came to know Peter in about 1982 when I was a young postdoc at the University of Waikato when Peter joined the newly formed Thermophile Research Unit led by Roy Daniel and Hugh Morgan. Through subsequent years I got to meet him at least annually through the Thermophiles and Extremeophiles conference series, a couple of visits to Macquarie University and one lovely evening out on NZ coastal waters on his boat with Pat and my wife. Peter was something of an inspiration; embedded in the highest quality of basic science but with a keen eye on the potential applications of his research. Given what he achieved as both a basic and applied research scientist, I suggest that his work deserves even more recognition from the wider scientific community that it already has. I will miss our meetings."
Dr Hugh Morgan (University of Waikato, Hamilton, New Zealand)
"Our research group at Waikato University first made contact with Peter in the early 1980's. We had characterised a thermophilic protease which had attracted interest from commercial entities. A major problem from their perspective was the low yields produced from the native organism, and the solution to this seemed to be cloning and over-expressing the gene in a more tractable host bacterium. Peter's lab was at the forefront of cloning technology in NZ and a contract was set for the project. Peter thought three months would be a suitable timeframe. It took over 6 years and never achieved the expression levels anticipated. To be fair, this was a fiendishly difficult gene to clone, with major traps and difficulties along the way.
However, this research cemented an ongoing relationship between our groups with the focus shifting to thermophilic enzymes responsible for cellulose hydrolysis. Peter developed techniques for genome walking so that functional genes could be defined from snippets of amino acid sequence that we provided. Since we now understand that cellulolytic thermophiles contain a multiplicity of such genes, ubiquitous gene duplications and that most code for bifunctional enzyme activities there were many false leads to overcome. However, this collaboration was manifestly successful and was instrumental in securing over $6 million in research grants largely from commercial entities and over 50 research publications.
As a departure from the focus on glycosidic hydrolases, a novel proteinase from a thermophilic Bacillus isolated from the soils of Mt Erebus, was cloned and expressed in E.coli by Peter. The novel thermostability features of this proteinase were exploited in PCR applications and led to the formation of the company ZyGEM. (See details below from David Saul)
The relationship between the research group at Waikato and Peter's group at Auckland (and eventually Macquarie University) extended over a period of 25 years. It was mutually beneficial with a minimum of documentation as to the respective roles and responsibilities of the parties, and enormously interesting and enjoyable. Peter was a seminal research leader; he had very high standards for conducting research and delivering results. On first acquaintance he seemed somewhat aloof, but this belied his desire to succeed and dogged persistence. We benefited immeasurably from his collaboration, his insight and constructive comments."
Dr David Saul (CSO MicroGEM, NZ)
"I first met Peter over a beer and steak and ale pie in a pub in Sheffield. Four weeks earlier, I'd seen a job advertisement on my department noticeboard to work as a Research Fellow in Auckland. I knew nothing of New Zealand. I'd seen a B-film at the cinema about white-water rafting in the East Cape so at least the place looked fun, and after eight years of study, an adventure at the other side of the world was just what I needed. Peter responded immediately and happened to be in the UK and so offered to come to my university town to talk over lunch. We got on well and he offered me a job working on drug resistance in his lab at Auckland University. I swallowed my trepidation of a big OE and accepted.
Peter was a great person to work with once you learned the timing of his grumpy moods. Invariably they were at their worst when he had flown back from dealing with politicians in Wellington. He was particularly irascible during the drafting of the HSNO Act and those of us working in microbiology today can be singularly grateful that some of the more ludicrous wrinkles in that legislation were ironed out by Peter. His happiest times were when we were windsurfing. From Peter's office we could see the flag on the Fletcher's building. 45° meant the wind had risen above 15 knots and after a quick check of the tide times, we were off. He had always enjoyed the water, but his penchant for sailing in wild seas terrified his wife Pat and daughter Clare so without a willing crew, windsurfing was a good substitute.
One of his most remarkable skills was his encyclopaedic knowledge of the scientific press. Peter was a living, breathing Google Scholar search engine before the internet was invented. His staff could ask of him the most arcane questions and he would respond with something like, "Smith and Jones, NAR, 1972 ... I think it was the September edition." It saved us hours not having to wade through the science citation index and until the day he died, I continued to use him as my first port of call for new ideas and background information.
After drug resistance, Peter's team started a collaboration with Hugh Morgan and Roy Daniel at Waikato to work on the industrial application of thermophilic enzymes. I confess, this was far more interesting to me than R plasmids and so I extended my stay in Aotearoa to what has now become 37 years. With the industrial work, Peter introduced me the 'dark side' – commercial science, and the rigours of raising money to keep staff employed and the science moving. I worked as part of his team until he made a break and moved to Macquarie University to take on the role of Deputy VC for Research. Despite the distance, we continued to work together on projects, and I continued to use his breadth of knowledge and in return, he continued to harangue me for forgetting to do stuff... something inconsolable for Peter's mind.
Fifteen years ago, myself, Peter and our friends in the Waikato team founded a biotech company - ZyGEM. I left academia to take on the role of CSO and Peter stayed a part of our enterprise by working on a scientific advisory board. We've fought a business world every bit as rough as the seas Peter used to frighten his family on. From peaks to troughs – even to dealing with pirates (of the corporate kind of course). Now with our new name, MicroGEM, we are an international company with 220 staff and I'm sad that Peter is not still with us to enjoy the adventure.
I will miss Peter, mostly as the friend who looked after me in those early years. To say that he had a big influence on my life is to woefully understate the reality. From an English lad to a long-stay Kiwi with a kiwi family in a beautiful country. And I'm still working with thermophiles.
I have no idea where I'd be if it hadn't been for that pie and pint. "
Dr. Anwar Sunna (Macquarie University, Sydney)
"The world is a small place. As a young PhD student in Germany, I attended my first international conference in 1992 on Thermophiles in Reykjavik, Iceland. During a conference excursion to the famous Strokkur Geyser I meet a Professor from Auckland University. Back then, who would have thought that we would meet again, 5 years later and 16,605 km from our first encounter, at Macquarie University in my first postdoctoral position under his supervision.
I have had the privilege of Peter's friendship for the past 23 years. He was an amazing mentor and collaborator, always supportive, generous with his time and enthusiastic. My academic journey and development as researcher have been greatly influenced by Peter's work ethic, incredible scientific knowledge, and high standards. I am still at Macquarie, and my family and I became Australians. As many others who were touched and influenced by Peter's friendship, we wouldn't be here if it wasn't for him.
I will miss Peter greatly, and yes, even his grumpy moods and complaints about flight connections and delays."
Dr Andrew Care (University of Technology Sydney, Australia)
"I was saddened to hear the news of Peter's passing. Peter was an outstanding research leader who will leave a lasting legacy. I consider myself very lucky to have benefited from his mentorship. He will be missed by many."
Dr Helena Nevalainen (Macquarie University, Sydney, Australia)
"Peter was Deputy VC of Research at Macquarie University in 1994-2002. I and my family had immigrated to Australia a year before his arrival and I was finding my feet in a new country, university and research. One day Peter came to see me and we talked about various projects we could do together. That was the start of a successful collaboration that continued over the next 20 years for which I am very grateful to him! Peter was a rather modest and private person but we became friends and talked about life outside of work too. Tales of his travels overseas were vivid and well detailed. I have many warm memories of these discussions. Peter had a great and positive impact on all our lives and careers and I will miss our meetings"
Authors: Moreland Gibbs, David Saul, Don Cowan, Hugh Morgan, Anwar Sunna, Andrew Care, Helena Nevalainen.