Sir Neil Waters
MSc, PhD (NZ), DSc (Auck), FANZAAS, FNZIC, FRSNZ
10 April 1931 – 7 June 2018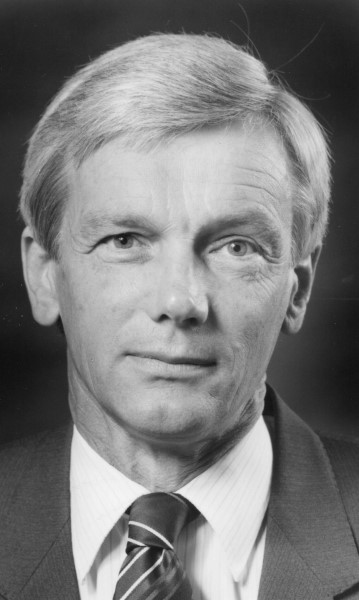 Born Thomas Neil Morris Waters in New Plymouth, he was the son of Edwin Benjamin Waters and Kathleen Emily (nèe Morris). He attended Awakino Primary School (a two-teacher country school), New Plymouth Boys' High School, and Auckland University College, from where he graduated with a Bachelor of Science in 1953 and a Master of Science (Chemistry) in 1954. He completed his doctorate in 1958 and a Doctor of Science in 1969. Both Waters and his wife Joyce Mary Partridge, whom he married in 1959, were working in Auckland's crystallography unit as postgraduate students. Two and a half years in England followed, with a fellowship at the Atomic Energy Authority. In mid 1960 Neil returned to the University of Auckland to take up a lectureship in chemistry. In 1970 he was appointed to a personal chair. He spent academic leave on two occasions at Oxford University in the laboratory of Dorothy Hodgkin, Nobel Laureate, and another at Northwestern University in the USA.
Neil's PhD research at the University of Auckland was supervised initially by Professor F.J. Llewellyn who brought the subject of X-ray crystallography to Auckland and New Zealand on his appointment as head of the chemistry department in 1948. Llewellyn gave Neil an interest in the X-ray diffraction technique which continued throughout his life. The arrangement of atoms in small molecules became his research focus and that of his many MSc and PhD students.
An Australian and New Zealand's Association for the Advancement of Science (ANZAAS) conference had been planned in Auckland for January 1979 at the University of Auckland and Neil agreed to act as secretary for it. The meeting was highly successful and when it was finished the ANZAAS Council elected him to Fellowship of the Association for his efforts as secretary.The success of the conference brought Neil's administrative skills to the notice of the University and no doubt played a part in his involvement with its various committees
Neil's firm views on the role and importance of scientific research in the teaching programmes at Auckland led to his appointment to head the research committee of the University of Auckland and then (1979-1981) as their representative on the University Grant Committee's Research Committee. Later he was chosen as the Deputy Vice-Chancellor at Auckland and then in 1981 as the Acting Vice-Chancellor in the absence on leave of the Vice-Chancellor. In 1982 he became a member of the full University Grants Committee in Wellington.
Neil was a man of reserved dignity, self-effacing, reticent but with a wry sense of humour. He promoted discussion and debate without intervention and was ever polite in his dealings with everyone. This included government ministers and officials, despite his often deep-seated concern about the impact of their policies on universities and their treatment of Massey University. His briefings of staff were devoid of the razzmatazz of branding and accentuating the positive. Punctuated with the threats Massey faced, he shared his views with colleagues in ways that were inclusive and, in the end, inspirational. Beneath this reticence were a set of core values: a belief in the dignity of the individual; in the humanising potential of the university; and in the future of New Zealand. This reticence also disguised the courage and determination to hold on to what he considered important and to push through with proposals he thought essential, despite often determined opposition.
These qualities together with a commitment to academic values which Neil certainly had, were exactly the attributes that the Council of Massey University were looking for when, during 1981, they were considering a replacement for their about to retire Vice-Chancellor. Informal sounding of influential people in the sector including professors at Massey University and the Chairman of the University Grants Committee led their Search Group to invite Neil to apply for the position which he was subsequently offered, accepted and took up in February 1983.
Neil's vision was that a university should be respected for its scholarship and research. He believed in a university run by its departments, reflecting the enthusiasms, aspirations and potential of its disciplines. Heads of Department initially had direct access to him as Vice-Chancellor. With 50 academic departments, this was far from streamlined and did not last and was replaced by a leadership group, but it represented an appreciated commitment to consultation in an academic-led university. That group included an Assistant Vice Chancellor (Academic) and an Assistant Vice Chancellor (Research), nominated by him but requiring the ratification of both the Professorial Board and Council.
Neil strongly defended academic freedom and supported academics and disciplines who increasingly came into conflict with government. He also supported applied disciplines, such as nursing, education and social work, which were reassessing their relationships with iwi, with the professions they supported and with their clients. Neil strongly supported the increasing role of Māori as tangata whenua within the university and the work of Professor of Māori Studies Mason Durie. For many at Massey these challenges were both disturbing and exciting. He was responsive to academic innovation as exemplified by the creation of a Faculty of Mathematics and Information Science and in Business the full fee-paying Executive MBA both of which were introduced during his tenure. He was supportive of women in academia and appointed the first woman to a Professorial position at Massey University and later a further six. By the time he retired, two women Deans, a woman Assistant Vice-Chancellor, a woman Assistant to the Vice-Chancellor and a woman Pro-Chancellor had also been appointed. With his prodding, in 1989, the Council set up an Equal Opportunities Sub-Committee.
A long held conviction that the international standing of any university was dependent on the extent of its partnerships with overseas institutions of world-class rank. This prompted him to set about making reciprocal interactions with selected universities in Asia particularly, but not exclusively, in China. One of the most notable successes was also the signing of a University-to-University agreement with The University of Tokyo in 1995 which at the time was reputed to be the top university in all of Asia.
While at Massey University he was also appointed as a member to the Councils of the Manawatu Polytechnic (1983-1990) and the Palmerston North College of Education. In 1984 he was appointed by the Minister of Science to join a review of policy-making in Science and Technology.
Times were changing and not in ways that Neil welcomed. The election of David Lange's 1984 Labour Government ushered in a new age of market-driven reform. Neil preferred to deal with National rather than Labour governments, which highlighted his antipathy to Labour's radical reforms to tertiary education. Labour's faith in market competition to determine educational policy threatened not only everything that Neil considered important in Massey's commitment to teaching and research, in his view, it undermined New Zealand strategically. Agriculture, the centrepiece of Massey's programmes, was severely threatened by Labour's withdrawal of subsidies and commercialisation of government activities in rural communities. Neil fought hard to preserve the country's commitment to research and teaching on agriculture and food technology, when dramatic declines in numbers threatened these programmes' viability and the Government of the day thought they were unnecessary.
Not only did Neil fear that the Government's reforms would undermine the independence of the country's universities, leaving them at the whim of short-term ministerial enthusiasms, he was at odds with the Government's determination to reform the way that universities operated. He treated with scorn the hierarchical managerialism so beloved of the reformers. He dismissed strategic plans as "the refuge of busybodies or the unimaginative who spend great amounts of time on the details feeling that they are directing the future but failing to notice that it has gone elsewhere".
A conservative, Neil sought to preserve the very best traditions of university enquiry and collegiality from the threats posed by the Labour Government's reform of tertiary education. Taking Massey to Albany, Auckland, was not an expression of confidence in the government's agenda, but primarily designed to preserve Massey's independence. The decision to go to Albany in 1989 would transform Massey, make the university a national university, and emphasised its place in the Pacific Rim. Waters' initial aspiration to use the new campus to be self-supporting by attracting overseas investment and overseas students was never realised, but the development occurred at a time when unemployment was increasing the demand for tertiary education. It was built and the students came and they continue to do so. Waters drew on a well-established commitment within the university to work with other educational providers, looking outward from the Manawatu to Asia and the Pacific. But he never had the full support of the Massey University Council, and many in Palmerston North feared the impact on their own campus and city. The superb campus only occurred through Neil's vision and drive and will be his memorial.
Neil supported debate, defended academic freedom, not as a privilege, but as fundamental to New Zealand's economic, social and cultural future. His final message to the University was typical of his values and his aspirations:
Through all the continuing turmoil and change, the University must hold fast to the eternal virtues of its mission, to its commitment to excellence, the pursuit of truth, the free exchange of ideas, the pursuit of knowledge and its obligations to the future.
Prior to retirement in 1995 Neil was involved with a number of Boards such as four Government Task Groups including one that produced the Todd Report on Tertiary Funding, the Board of the Horticulture Research CRI from 1991 to 1995, and the Dairy Research Institute between 1994 and 1995.
Neil was conferred with an Honorary Doctor of Science by the University of East Asia in 1986 and by Massey University an Honorary Doctor of Literature on his retirement at the end of 1995. He was elected a Fellow of the Royal Society of New Zealand in 1982. He was knighted for his services to education in 1995. In 2011 he received the Sir Geoffrey Peren Distinguished Alumni Award.
On retiring his involvement with educational and scientific matters continued with his appointment as Chair of the Foundation for Research, Science and Technology and in 1996 as the Chair of the National Qualifications Authority. Later in 1997 he was chosen to join an OECD Tertiary Education Review Team in Portugal. In 2001 he was a member of a team asked by the Royal Society on behalf of the NZ Government to select the first group of Centres of Research Excellence in New Zealand and in 2002 he became Chair of the Board of one of them, the Alan Wilson Centre. From 2001 to 2003 he served as Chair of the Royal Society's ad hoc Committee on Ethics in Science.
At the time of his death he was an Emeritus Professor of both the University of Auckland and Massey University.
In the early 2000s Neil was diagnosed with Parkinson's Disease. This progressed very slowly at first but gradually caused balance, mobility and speech problems which were borne patiently. In early 2014 he was offered and accepted help from the Royal District Nursing Service who sent two workers three times a day to care for him at home. This continued until February 2017 when on medical advice he moved to the hospital section of the Grace Joel Retirement Village in St Heliers where he received good care and where he remained until his death.
Neil is survived by his widow Joyce who now resides in the Grace Joel Retirement Village.
Contributions to this Obituary were from Professor Michael Belgrave, Emeritus Professor Ian Watson and Emeritus Professor Joyce Waters.