Adele Williamson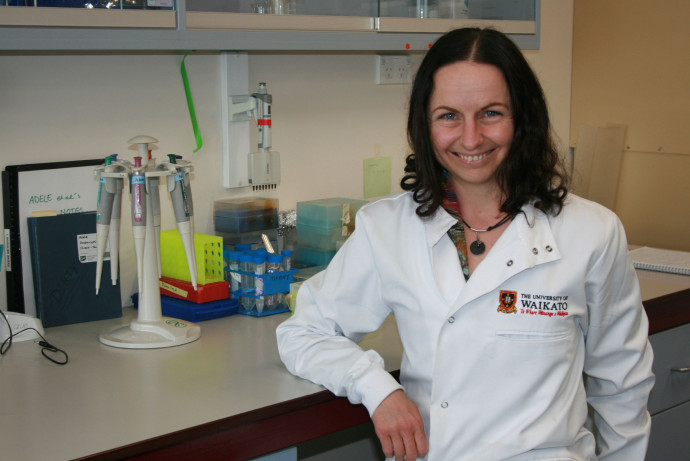 Dr Adele Williamson. Photo: Emma Summers
2020: Dr Adele Williamson, University of Waikato, School of Science, has been awarded a Rutherford Discovery Fellowship for research titled 'In extremis: how bacteria replicate, repair and diversify their genomes in challenging environments'
Published 22 Whiringa-ā-nuku October 2020
Biography
Dr Adele Williamson is a structural and molecular biologist with an interest in identifying DNA repair systems in bacteria, especially those inhabiting extreme environments. Dr Williamson received her PhD in 2008 from the Australian National University. Following this, she completed a two-year postdoctoral fellowship at Umeå Plant Science Centre in Sweden. From 2010-2019 she held various research scientist roles in University of Tromsø, Norway. While in Norway, she led several biotechnologically-oriented projects, including a 3-year Biotek2021 Optimisation project. In 2019, she was awarded a Marsden Fast-Start grant to investigate the DNA repair systems of the microbes found living in the harsh climate of Antarctica. With this grant, she returned to Aotearoa New Zealand to take up a research fellowship at the University of Waikato.
Research summary
Living organisms have the vital task of preserving the integrity of their DNA, which can suffer damage from radiation, chemicals or other physical factors. DNA repair is therefore essential for all organisms to preserve their genomic integrity. Bacteria are experts at this, which has allowed them to inhabit the furthest reaches of our planet from Antarctica to geothermal areas, surviving the greatest environmental challenges that nature and people can throw at them. Unravelling the specialised pathways that bacteria use to conduct DNA repair is crucial to understanding the organisms that underpin global ecosystems and cause serious human diseases – and it can also provide new tools for biotechnology. An enzyme called 'DNA ligase' is a central player of DNA repair pathways, which 'glue' pieces of DNA together. At the beginning of cellular evolution, bacteria switched to using an alternative form of DNA ligase while other organisms, including most viruses, continued to use the ancestral version. However, the question of why bacteria use non-ancestral DNA ligases remains unanswered.
In her Rutherford Discovery Fellowship, Dr Williamson aims to understand how bacteria use different forms of DNA ligase together with other specialised repair enzymes when surviving in challenging environments. She will employ a combination of bacterial genetics, bioinformatics, and structural biology methods to investigate this long-standing evolutionary enigma in bacterial DNA repair systems. Knowledge of the enzymes involved may allow Dr Williamson to identify vulnerabilities in bacterial pathogens that can be exploited as drugs, and to use these enzymes as biotechnological or diagnostic tools. Fundamental aspects of this work will be of high interest to the fields of evolutionary and medical microbiology, as well as ecologists focused on climate change.