Amanda Black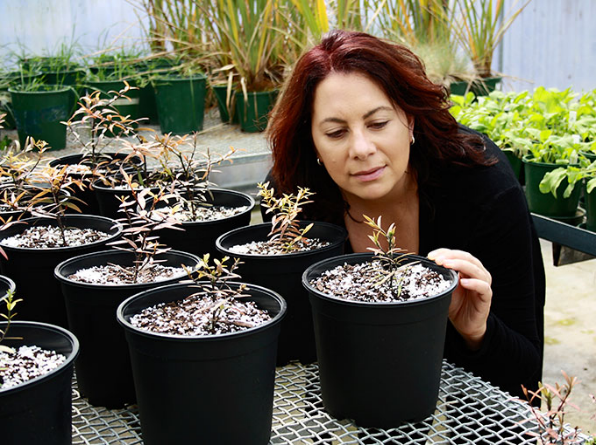 Dr Black observing the health of kauri seedlings in the glass houses (Photo: provided)
2021: Associate Professor Amanda Black (Ngāi Tuhoe and Whakatōhea), Lincoln University, has been awarded a Rutherford Discovery Fellowship for research titled 'Genomes to giants: Restoring resilient soil ecosystems in kauri forests'
Published on 11 Whiringa-ā-rangi November 2021
Biography

Dr Amanda Black is the Co-Director at Bioprotection Aotearoa Research Centre and an Associate Professor at Lincoln University. She studied soil chemistry at Lincoln University, gaining her PhD in 2010. This was followed by a three-year Postdoctoral Fellowship at Lincoln and appointment in 2013 as a lecturer within Bio-Protection Research Centre.
Dr Black's research expertise is in environmental soil and water chemistry, with a special focus on ecosystem resilience in soils in managed and natural ecosystems. In particular, she investigates disease resistant traits in kauri forests. She also has a strong background in incorporating mātauranga Māori within her research and facilitating interactions and collaborations with iwi. She has been recognised for her outstanding achievements and contributions in Aotearoa with numerous awards including the Māori Television Matariki Award, Te Tupu-ā-Rangi for Health and Science (2019), and awards from the Ministry for Primary Industries as an Emerging Leader (2018).
Research Summary
The kauri forests of Aotearoa are some of the most ancient and unique in the world, with deep cultural connection to the Māori people. Microbes in soil – tiny living forms that are found all around us, too small to be seen by the naked eye – have a big role to play in making Kauri trees dominant in forests in Aotearoa. In pre-European times the trees regulated carbon storage and climate, and were able to protect themselves against diseases. Since European settlement, kauri forests have been significantly reduced, covering less than 4% of their original pre-1800s land-range. Kauri are now threatened with extinction. This is underpinned by three main ecological disturbances: the loss of vital elements in soil such as nitrogen and phosphorus with the extinction of seabird populations, forest fragmentation, and invasive plant pathogens such as Phytophthora agathidicida, the causative agent of kauri dieback. However, it is the impact of these ecological disturbances on the soil microbial community which is still unknown.
Associate Professor Amanda Black has been awarded a Rutherford Discovery Fellowship to reconstruct the kauri soil ecosystem using soil DNA and integrating matauranga Māori of the ngāhere forest, to build whakapapa of the soil. She will use soil surveys from selected field sites to understand the structure of the soil microbial ecosystem. Combining cutting-edge technologies like stable isotope probing and next-generation sequencing, Dr Black will reconstruct the kauri soil ecosystem to study how human-influenced events have affected the microbial community in the soil over time.
With this fellowship, Dr Black will resolve the value of mauri life forces by restoring kauri ecosystems through reconnecting soil whakapapa. Dr Black will also demonstrate how ecosystem restoration underpins the wellbeing of Māori communities who whakapapa to these forest areas. This combined approach will pave the way to understanding the impacts of disturbances on kauri soil microbial communities and will articulate crucial knowledge which can guide us in the protection of these forest giants for the future.