Andrew McDaid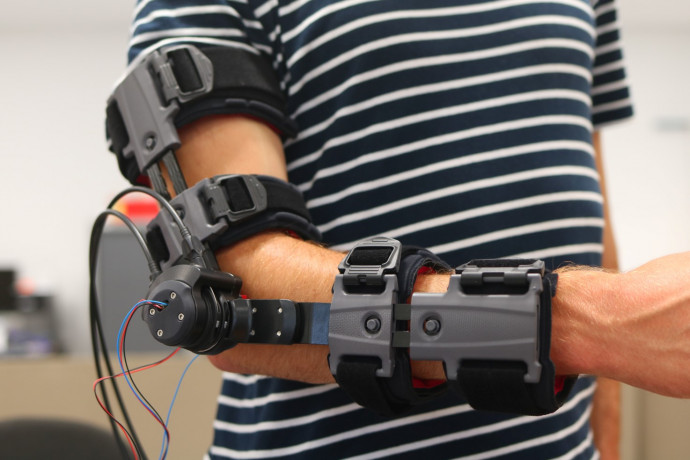 One of Associate Professor McDaid's wearable robots for rehabilitation of the elbow. Photo: Supplied (CC BY-SA 4.0)
2019: Associate Professor Andrew McDaid, the University of Auckland, Department of Mechanical Engineering, has been awarded a Rutherford Discovery Fellowship for research titled: 'Uncovering new knowledge of neurological and musculoskeletal rehabilitation mechanisms using novel data-driven methods'
Published 10 Whiringa-ā-nuku October 2019
Biography
Associate Professor Andrew McDaid of the University of Auckland has multidisplinary expertise in mechatronics engineering, smart materials, control systems and clinical research. He leads a large international research team and has secured significant national and international funding, including a Marsden Fund Fast-Start grant in 2014, US Office Naval Research grants, and a Health Research Council grant last year. Associate Professor McDaid completed his PhD in mechanical engineering at the University of Auckland in 2012. He was a Research Fellow (2011), a Lecturer (2013) and a Senior Lecturer (2016) at the same institution and has been an Associate Professor since 2019. In that same year Associate Professor McDaid founded and became director of OPUMTechnologiesthat own and commercialise the intellectual property derived from his research programme.
Research Summary
Globally, our ageing population comes with a rise in prevalence of physical and neurological impairments resulting from injury and disease. Increases in healthcare costs attributed to ageing contribute to immeasurable health, social and financial burdens. Rehabilitation is currently carried out by human physical and occupational therapists but this can be inefficient in terms of cost and time, as well as being physically demanding and subjective. Automated robotic rehabilitation has been proposed as a more efficient therapy method. However, current state-of-the-art robotics are large, expensive commercial devices only available in highly resourced countries and clinics. Current rehabilitation robotics are also developed with little or no intelligence, so they act based on predefined rules that are not specific to the person being treated, and they do not adapt or learn like a human therapist.
During his Rutherford Discovery Fellowship, Associate Professor McDaid aims to advance current rehabilitation strategies for injury and disease using data-driven technologies he has developed. Employing his recent advances in wearable robotics, computational physiological modelling, artificial intelligence, and machine learning, he will uncover new fundamental knowledge leading to more effective recovery pathways. Specifically, he will use the tools he is developing to understand the underlying physiology of movement and to plan recovery, as well as looking at the effects of diverse factors on disease and rehabilitation. From this, he will create a "virtual therapist", using AI to optimise therapy plans for personalised treatment based on personalised data, with a specific focus on Māori. Associate Professor McDaid's philosophy is that a shift towards low-cost robotics devices, delivered in high volumes with novel methods of treatment will result in new automatic, precise, and objective therapy approaches that will help to reduce the global healthcare burden.