Claire Charters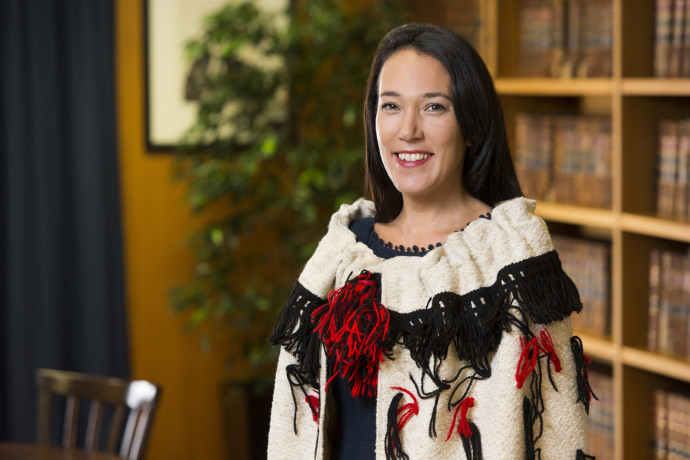 2017: Associate Professor Claire Charters, University of Auckland, Faculty of Law, has been awarded a Rutherford Discovery Fellowship for research entitled: 'Constitutional Transformation to Accommodate Māori in Aotearoa/New Zealand: Lessons from Around the Globe'.
Biography
Dr Claire Charters (Ngāti Whakaue, Tūwharetoa, Ngā Puhi, Tainui) is an Associate Professor at the University of Auckland Faculty of Law, specialising in Indigenous peoples' rights in international and constitutional law. She studied at the University of Otago and at New York University as a Fulbright Graduate Scholar, before undertaking a PhD at the University of Cambridge. Her thesis focused on the legitimacy of Indigenous peoples' norms under international law. She has published and spoken widely on the UN Declaration on the Rights of Indigenous Peoples, comparative indigenous constitutional rights in New Zealand, Canada and the United States, and tino rangatiratanga and tikanga Māori in New Zealand. She combines her research with advocacy for Indigenous rights nationally and internationally. She has represented her iwi in treaty negotiations and worked in the UN Office of the High Commissioner for Human Rights. In addition, she was recently an advisor to the President of the UN General Assembly on enhancing indigenous people's participation at the United Nations.
Research summary

In Aotearoa/New Zealand, calls for greater constitutional accommodation of Māori have been persistent since 1840. Justifications include concerns about the legitimacy of the New Zealand state, the puzzle of reconciling state jurisdiction with recognition of Māori authority, the need to ensure equality between Māori and non-Māori, and addressing the ongoing impacts of economic, social and cultural marginalization of Māori. The political and legal appetite for constitutional transformation appears to be growing, supported by the government-initiated Constitutional Advisory Panel's 2013 Report on New Zealand's Constitution as well as years of flax-roots research on Māori visions for a New Zealand Constitution by Matike Mai Aotearoa. Around the globe, there have also been recent and ongoing attempts to provide greater recognition and accommodation of Indigenous peoples under domestic, and often constitutional, law. Such developments have been inspired and supported by the UN Declaration on the Rights of Indigenous Peoples adopted in 2007, reflecting an appreciation that Indigenous peoples should be accommodated in the constituting laws of the nation state.
However, states and Indigenous peoples continue to face questions about the "how". What might be the best means to accommodate Indigenous peoples' claims and rights? What options are on the table? What works? How do we move from broad and principled objective to practical and effective legal tools? How might a constitution fairly balance Indigenous peoples' rights and non-Indigenous peoples' rights? In this Fellowship, Associate Charters will evaluate various existing and proposed methods of constitutionally recognizing and accommodating Indigenous peoples' rights around the globe, with the aim of informing potential reform in Aotearoa. Drawing on case studies from as far apart as Bolivia, Mexico and Canada, Australia and the Pacific, and Norway, Finland and Sweden, she will focus on the recognition of Indigenous jurisdiction and autonomy, protection of treaty and aboriginal rights, rights to lands, rights to culture and access to political power. She hopes to provide pragmatic recommendations that will lead to better constitutional recognition of Indigenous peoples in New Zealand and internationally.