David Aguirre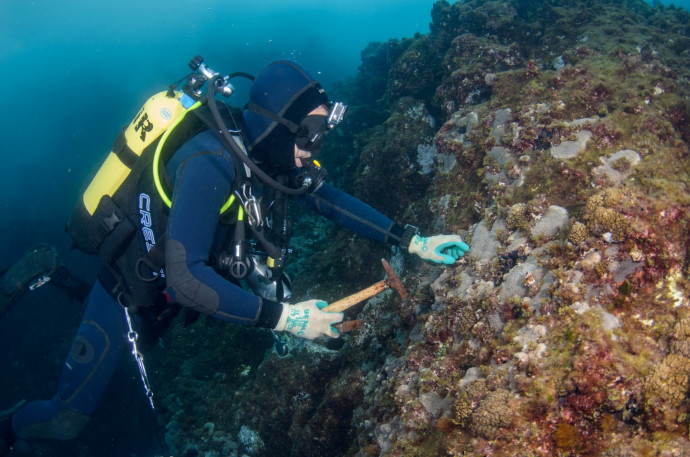 Dr Aguirre examining underwater coral reefs. Photo: SeacologyNZ
2019: Dr David Aguirre, Massey University, Albany, has been awarded a Rutherford Discovery Fellowship for research titled 'Ecosystems on unstable foundations: examining the potential for coral and macroalgal responses to global change'
Published 10 Whiringa-ā-nuku October 2019
Biography
Dr David Aguirre is a Senior Lecturer in the School of Natural and Computational Sciences at Massey University, Albany. Dr Aguirre received his PhD in Evolutionary Ecology in 2012 from the University of Queensland, Australia, where he continued with postdoctoral research until 2013. As a recipient of a Rutherford Foundation New Zealand Postdoctoral Fellowship he joined Massey University in 2014. Since 2014 he has been the New Zealand representative on the World Harbour Project, and since 2017 he has sat on the Science advisory board of Te Rangihakahaka Centre for Science and Technology, Te Taumata o te Ngāti Whakaue. His research focuses on understanding how rapid change in the global climate over the last century affects marine biodiversity and, in turn, human populations.
Research Summary
Global climate change is forcing a redistribution of our planet's biodiversity. Corals, which are the foundation for coral reef ecosystems in tropical regions, appear particularly sensitive to global change, and in some regions certain coral species have become locally extinct. As shallow, equatorial regions become increasingly hostile to coral, the hope is that deep and high latitude reefs will become the sanctum for corals and coral reef biodiversity. The critical assumption underlying this predicted range expansion is that corals can easily invade the recipient ecosystems. However, the kelp forests, which historically dominated at higher latitudes, have been facing their own challenges. Population explosions of kina consume the kelp, leaving behind a barren seafloor. Moreover, increases in ocean temperature, sedimentation and changes in ocean chemistry can also trigger a loss of kelp forests and biodiversity. These affected ecosystems are sometimes then taken over by turf algae, which, once established, prevent the reestablishment of kelp forests, and may also prevent the establishment of corals.
During his Rutherford Discovery Fellowship, Dr Aguirre will address key challenges in kelp forests and coral reefs. He will develop a novel unified framework for reef ecosystems, and examine the forces governing transitions in the dominant species found on temperate and tropical reefs. He will examine the potential for adaptive evolution in response to environmental conditions driving widespread declines in Aotearoa New Zealand's kelp forests. Ultimately, he will explore the possibility of transplanting preadapted kelps into wild populations as a conservation strategy for populations at risk of extinction.