Guy Sinclair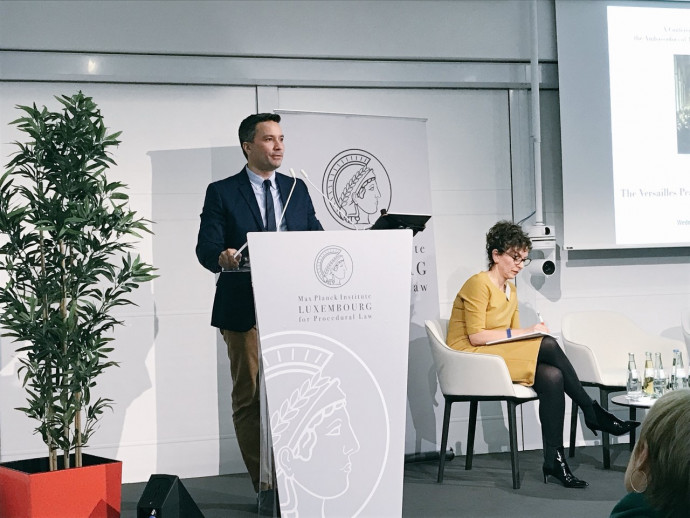 Dr Guy Sinclair at the Max Planck Institute Luxembourg for Procedural Law (MPIL) in 2017. Photo credit: MPIL
2022: Dr Guy Sinclair, from Waipapa Taumata Rau University of Auckland, has been awarded a Rutherford Discovery Fellowship for research titled 'Governing the Pacific: International Legal Ordering in Moana-nui-a-Kiwa'
Published on 27 Whiringa-ā-nuku October 2022
Biography
Dr Sinclair is Ahonuku Associate Professor in public international law. He gained his Bachelor of Laws and a Bachelor of Arts at the University of Auckland in 1999, later gaining his Doctor of Juridical Science (J.S.D.) from the New York University School of Law in 2014. His specialisation in international organisations has led to a number of edited collections, articles, and chapters and won him a European Society of International Law Book Prize in 2018. His Pasifika background and upbringing make him especially attentive to the colonial and postcolonial dynamics of international law and institutions.
Research summary
Since World War II, international law has been increasingly made and applied through countless international organisations (IOs). Today, IOs exercise a broad range of law-making and governance powers that directly impact the lives of individuals across colonised and decolonised countries alike. These IOs' activities intersect in complex ways – overlapping, cooperating, and competing with each other and major regional powers.
In this Rutherford Discovery Fellowship, Dr Sinclair will systematically map and theoretically analyse the international legal framework operating in the Pacific through the interacting IOs operating in the region. Covering one-third of the world's surface, Moana-nui-a-Kiwa the Pacific Ocean encompasses vast natural resources, cultural diversity, and sites of geopolitical significance. In addition to global IOs, there are multiple regional IOs established by the Pacific Island states themselves. These regional IOs address ocean and fisheries management, climate change, trade, development, and security among other concerns. Puzzlingly, however, Pacific-based IOs have barely been examined from a legal perspective. Much remains to be learned about these organisations' contributions to international law and governance, both individually and collectively.
This research will cast new light on a series of urgent debates in regional governance – made even more pressing by rising geopolitical tensions – as well as transnational legal theory, history, and institutional design. Understanding exactly how IOs have constructed, contested, and governed the Pacific will be of enormous benefit to Pacific nations, whose bureaucracies are often strained by the push-pull of multiple institutional environments. It will also assist policymakers and government officials here in Aotearoa to navigate the dynamics of regional law and politics, and continue to keep the bonds strong across all of Moana-nui-a-Kiwa.