Htin Lin Aung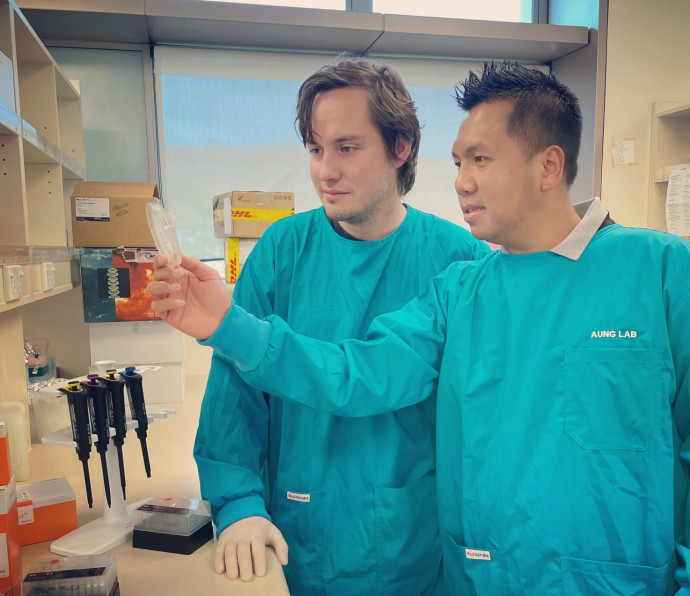 Dr Htin Lin Aung (right) and his student, Callum August (Te Whānau-ā-Apanui) observing bacterial growth. Photo: supplied.
2021: Dr Htin Lin Aung, University of Otago, has been awarded a Rutherford Discovery Fellowship for research titled 'Development of patient- and community-centric tuberculosis healthcare services: a multidisciplinary approach to close the health inequalities gap'

Published on 11 Whiringa-ā-rangi November 2021
Biography
Dr Htin Lin Aung gained his PhD in 2013 from the Department of Microbiology and Immunology at the University of Otago, where he then took up postdoctoral research. In 2017, Dr Aung was awarded a Sir Charles Hercus Health Research Fellowship in the same department. He was also awarded an Early Career Award for Distinction in Research by the University of Otago.
Dr Aung has an international reputation in the field of genomics and has received grant support from the World Health Organization for undertaking policy-relevant tuberculosis research. He was named as one of 40 trailblazers under the age of 40 from South-East Asia who are driving positive change and creating impact in the region. His overarching research theme is tuberculosis genomics and health inequalities. He leads a multidisciplinary research programme that utilises genomics, molecular biology, genetics, epidemiology, and social science.
Research Summary
Mate kohi (tuberculosis, TB) is a curable infectious disease, yet it claims 5,000 lives daily. TB infection disproportionally affects socio-economically disadvantaged communities, including Indigenous populations across the world. Aotearoa is a low TB-burden country. However, Māori and Pasifika respectively have 6- and 16-times higher rates of TB compared to Pākehā, a disparity that must be addressed. Of particular concern are the two strains of TB-causing bacteria that are endemic to Māori and Pasifika. These strains contribute to the disproportionate adverse health burdens in these communities as they are highly transmissible, with a higher rate of progression from initial infection to active disease. Improving our understanding of these strains is critical for developing interventions that can reduce transmission and improve current treatment approaches.
TB health inequalities in Māori and Pasifika are compounded by the gaps in the current model of TB management, coupled with socio-economic and cultural barriers. In his Rutherford Discovery Fellowship, Dr Aung aims to address these challenges by developing both community and patient centric TB healthcare services. He will take a multidisciplinary approach by integrating his work with key community stakeholders, along with expertise in molecular biology, epidemiology, and social science. This approach will link the laboratory to the hospital and the clinic to the community. Dr Aung will investigate TB transmission and disease causation within Māori and Pasifika communities using genome sequencing. He will also look at the social and cultural drivers of this transmission, by engaging with affected communities. With this fellowship, Dr Aung will study the biology of these endemic strains using various biological tools to understand how these strains cause disease, and the impact of current treatment and vaccination. Thereby, this research could also provide a foundation for the development of new vaccines, antibiotics, and diagnostics for TB.
In addition to being community co-designed, this fellowship will involve Māori and Pasifika researchers and postgraduate students, as an essential pathway to further diversify the health research workforce in Aotearoa. Overall, this research will integrate biological tools with patient and community-centred approaches to redefine TB healthcare and to reduce health inequalities in Aotearoa.