Kelly Dombroski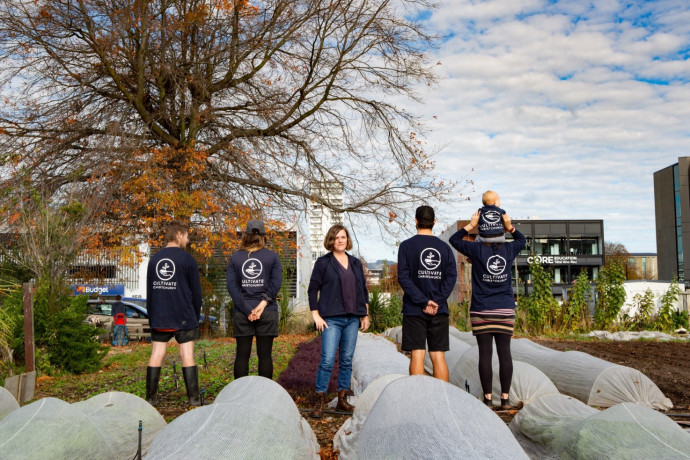 Associate Professor Kelly Dombroski and some of the team at the Cultivate Urban Farm, Christchurch, where recently conducted related research is located. Photo: Corey Blackburn.
2021: Associate Professor Kelly Dombroski, University of Canterbury, has been awarded a Rutherford Discovery Fellowship for research titled 'Transitioning to caring economies through transformative community investments'
Published on 11 Whiringa-ā-rangi November 2021
Biography
Originally from the Wairarapa, Associate Professor Kelly (Hoskins) Dombroski was awarded her doctorate in Geography in 2013 from Western Sydney University, while also lecturing at Macquarie University. She then moved to the University of Canterbury, where she progressed to her current position as Associate Professor in Human Geography. Associate Professor Dombroski is an international leader in the field of community economies and diverse economies. She seeks to transform understandings of social change and reinvigorate the role of academics in wellbeing-led economic transformation. She is co-editor of the Handbook of Diverse Economies, and currently part of the leadership team for 'Huritanga: Systems change for urban wellbeing' – a National Science Challenge here in Aotearoa. Her research experience extends across China, Southeast Asia, Australia, and Aotearoa New Zealand.
Research Summary
How to transition to more fair and sustainable economies has become even more of a pressing issue in these times of climate crisis, pandemic, environmental degradation, and global inequalities. These largely human-caused problems are propelled by what many economic geographers and political economists identify as Western ideas of competition, individualism, and a 'man vs wild' mentality that continue to drive traditional economic models.
Scholars like feminist economic geographer Associate Professor Kelly Dombroski are calling attention to fundamental issues embedded within classical, profit-driven economic systems. Communities and governments are beginning to hear their call, seeking transitions to different 'holistic' economies that prioritise wellbeing over economic growth. Indeed, Aotearoa is seen to be leading the way through 'wellbeing budgets', the Living Standards Framework, and the Unite against Covid-19 campaign. But there is still more mahi to be done. Despite calls for kindness and reform, child poverty and homelessness are still high, environmental wellbeing is declining, and partnerships based on Te Tiriti o Waitangi are often stalled by political agendas.
In this exciting new Rutherford Discovery Fellowship, Associate Professor Dombroski will investigate community organisations that are already on the ground and engaged in the types of economies that care about social change. 'The Transitioning to Caring Economies' research programme will begin with case studies in urban areas, farming, composting, and co-housing. Then studies with diverse communities that include Māori and Asia-Pacific-based community organisations will be conducted. The programme will partner with communities investing their time, energy, and finances into transformation. Associate Professor Dombroski seeks to understand the kinds of people, practices and organisations that drive and emerge from such investment. The programme will also build on these partnerships and findings to co-develop a way forward by accounting for investments of time and energy in terms of social and environmental wellbeing. Through this collaborative, socially engaged approach, Associate Professor Dombroski's research will enhance the prospect of economic change by highlighting and championing those who care about human and planetary wellbeing.