Khoon Lim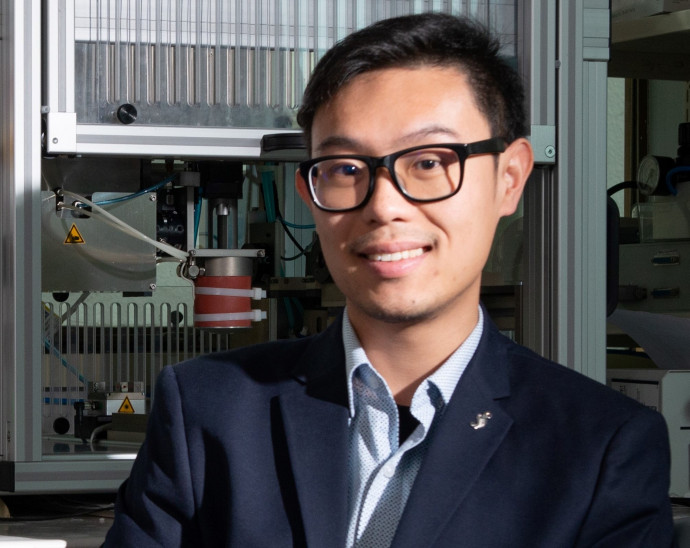 Dr Khoon Lim (Photo: Provided)
2021: Dr Khoon Lim, University of Otago, has been awarded a Rutherford Discovery Fellowship for research titled '3D Bioprinting of Functional Vascular Networks'
Published on 11 Whiringa-ā-rangi November 2021
Biography
Dr Khoon Lim is a biomedical engineer with specialisation in polymer chemistry. Dr Lim received his PhD in Biomedical Engineering in 2014 from the University of New South Wales, Australia. He then moved to Aotearoa as a postdoctoral fellow at the University of Otago. In 2019 he established the Light Activated Biomaterial Lab, where he mentors a number of postgraduate students and postdocs. Dr Lim's research interests are diverse and multidisciplinary, encompassing polymer chemistry, biomaterials, cell biology and tissue engineering. His current research is focused on adopting a class of polymers known as hydrogels as tissue engineering matrices, and 3D-printing for a variety of biological applications.
As an early career researcher, he has received many competitive awards and grants, including an Emerging Investigator Award in 2021 from the Australasian Society for Biomaterials & Tissue Engineering, Early Career Award for Distinction in Research in 2020 from the University of Otago, the Young Investigator Award in 2018 from the International Society for Biofabrication, and a Marsden Fast-Start grant in 2019. Dr Lim has established collaborative projects to perform high-impact research with world-renowned universities including the University of Würzburg, University of New South Wales, University Medical Center Utrecht, and Harvard University.
Research Summary
Organ transplantation saves the lives of patients affected by terminal organ failure. The demand for organ transplants has rapidly increased all over the world. However, organs suitable for transplantation are too scarce to meet demand, resulting in a major organ shortage crisis. In Aotearoa, the waiting time for a suitable organ donor is usually between 4-30 months, and many people suffer complications and often die before a suitable donation becomes available.
Tissue engineering and regeneration medicine – the science of growing patients' own cells to form living functional tissues – is an alternative strategy which could be used to replace damaged organs. Although there have been multiple breakthroughs in terms of creating living tissue using 3D bioprinting techniques, to date, the largest functional, laboratory-made tissue is only about 2mm in size. Scaling this up to clinically-relevant sizes (1-10cm) is hindered by the inability to incorporate functional blood vessel infrastructure within these tissues. Functional blood circulation is critical for survival of all tissues and organs in the body, as blood supplies the oxygen and nutrients that cells need. Our blood vessel infrastructure is complex and multilevel, from large veins, to capillaries that are so small they're measured in microns. Recreating such complexity in laboratory-made tissues is immensely difficult. The current technique involves multiple steps, and the vessels it creates are limited in their architecture and functionality. Dr Lim suggests that if we can imitate how vascular systems form biologically, and provide a body-like microenvironment with 3D-bioprinting, recreating functional tissues is achievable.
With this Rutherford Discovery Fellowship, Dr Lim will develop a hydrogel based "vascular bioink" which will allow for the precise control of cellular organisation within 3D-printed tissues. This bioink provides the physical and biological signals necessary to facilitate introduced cells to form into complex multilevel vascular networks, in mimicry of the native method of blood vessel development. Once the barriers to engineering functional organs in the laboratory are overcome, there is huge potential to alleviate the current organ shortage crisis.