Libby Liggins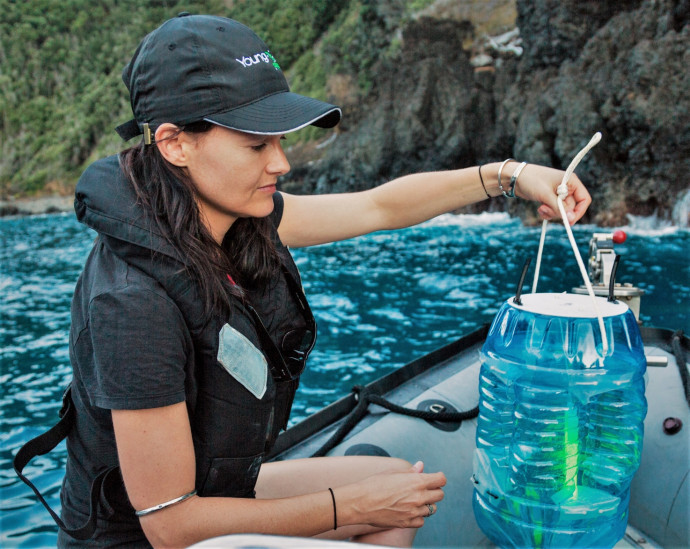 Dr. Libby Liggins deploying a light trap for sampling larval fishes in the coastal waters of Rangitāhua, the Kermadec Islands. Photo: William Pike
2020: Dr Libby Liggins, Massey University, has been awarded a Rutherford Discovery Fellowship for research titled 'Tohu of change for Aotearoa New Zealand's marine biodiversity'
Published 22 Whiringa-ā-nuku October 2020
Biography
Dr Libby Liggins is a Lecturer in Marine Ecology at Massey University Auckland and a Research Associate at the Auckland War Memorial Museum Tāmaki Paenga Hira. After receiving her PhD in Evolutionary Ecology from the University of Queensland, she joined Massey University in 2014 as an Allan Wilson Centre Postdoctoral Fellow and then a Rutherford Foundation New Zealand Postdoctoral Fellow. Dr Liggins uses genetic techniques to understand the processes that shape biodiversity, especially in relation to global change and sustainable resource use. She is also passionate about science outreach and community engagement, working with BLAKE – the Sir Peter Blake Trust for inspiring environmental leadership – where she leads science expedition experiences for young New Zealanders, and was a co-founder of the 'What's that Fish NZ?' citizen science initiative.
Research summary
Species are on the move, and the driving force for this global redistribution of biodiversity is climate change. In many coastal marine environments, ocean climate change is causing species ranges to shift towards the poles of the Earth and is also driving native species to extinction. These ecosystem changes have resulted in far reaching socio-economic challenges, crippling local fishing industries and livelihoods. While the degree of oceanic change in New Zealand is so far less than that of many other countries, it remains one of our most pressing marine issues. Shifts in coastal currents, temperatures, and the frequency of marine heatwaves are now noticeable. However, due to our complex coastal oceanography and regional weather patterns, poleward range shifts may not be the only response of our marine biodiversity to climate change. Instead, there may be a mosaic of changes around our coastlines, with an uneven distribution of local species decline, growth, or relocation. Although difficult to detect, quantifying these biodiversity responses would give us forewarning of greater changes to come.
Dr Liggins will examine these biodiversity responses to ocean climate change in New Zealand to establish tohu (signs) of future marine biodiversity change. Modelling of species biology with past and forecasted ocean conditions will predict hotspots of significant coastal biodiversity change. These sites will be used for targeted species sampling and analysis to detect genetic signs of recent population growth, decline, or adaptation to a changing ocean climate. As sightings of species in new locations are most likely to be witnessed by New Zealand's ocean-going community, Dr Liggins will also use her existing citizen science platform to establish observer networks for ongoing monitoring. She will invite local communities, iwi, interested agencies and industry partners to hui to determine which species sightings may be tohu of change in different regions of New Zealand based on published information, local knowledge and mātauranga.
Over the course of this fellowship, Dr Liggins, together with citizen scientists, will identify and monitor marine biodiversity change in New Zealand, contributing to the global understanding of climate change impacts, and empowering New Zealanders in their role as kaitiaki (guardians) to make informed decisions about how to manage or mitigate the changes.