Melanie Ooi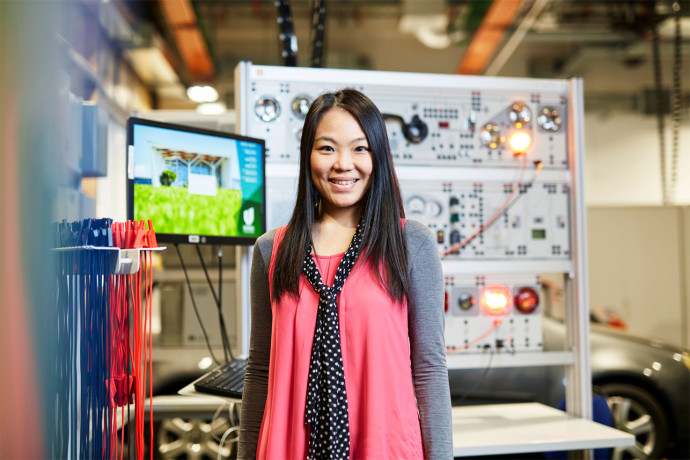 Associate Melanie Ooi. Photo: Unitec Institute of Technology
2019: Associate Professor Melanie Ooi, School of Engineering, University of Waikato has been awarded a Rutherford Discovery Fellowship for research titled: 'Resilient and efficient light-based plant detection and characterisation for precision agriculture and environmental sustainability'
Published 10 Whiringa-ā-nuku October 2019
Biography
Associate Professor Melanie Ooi is one of the leading instrumentation and measurement-engineering scientists in the Asia Pacific region. She obtained her PhD from Monash University in 2011 and held academic appointments at Monash University and subsequently Herriot-Watt University before moving to Unitec Institute of Technology, Auckland in 2017. She has received several awards including the 2017 Mike Sargeant Career Achievement Award from the Institute of Engineering and Technology, the 2014 Outstanding Young Engineer Award from the IEEE Instrumentation and Measurement Society, and the 2014 Excellence Award from the International Education Association of Australia. Associate Professor Ooi currently works in the School of Engineering at the University of Waikato.
Research Summary
Precision agriculture is the process whereby a targeted weed or undesirable plant receives herbicide treatment without it affecting the neighbouring pasture plants. This kind of individual plant management has the potential to reduce treatment costs, increase agricultural productivity and reduce the environmental impacts of treatment.
Associate Professor Ooi will build a plant detection system that uses specifically tailored LED light sources and precise imaging techniques to measure and detect the prevalence of undesirable plants. This process will be implemented in real-time without using resource intensive computations so that it can be deployed by being directly attached to farming machinery. She will measure the light-reflecting characteristics of relevant herbaceous species throughout their life cycles, specifically crafting the LED light sources to optimally image the undesired species. The resulting plant identification system that Associate Professor Ooi is developing will have the benefit of being both cost effective and resilient to rigorous use on farm equipment.
Associate Professor Ooi has achieved preliminary success using these imaging techniques to distinguish three common species of weed: ragwort, gorse and blackberry. Besides the benefits to Aotearoa New Zealand's dairy and meat sector, this technology offers great opportunities for export-oriented precision agricultural equipment companies.