Melinda Webber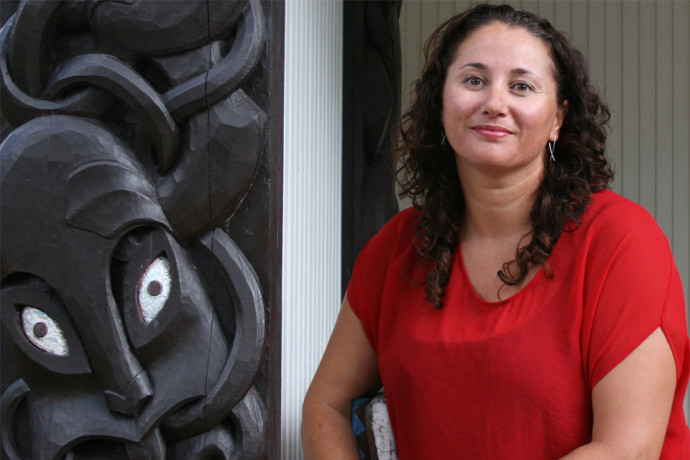 2017: Associate Professor Melinda Webber, University of Auckland, Faculty of Education and Social Work, has been awarded a Rutherford Discovery Fellowship for research entitled: 'Kia tū rangatira ai ngā iwi Māori: Living, succeeding, and thriving as iwi Māori'.
Biography
Dr Melinda Webber (Ngāpuhi, Ngāti Whakaue) is an Associate Professor in the University of Auckland Faculty of Education and Social Work, specialising in Māori identity and the ways in which race, ethnicity and culture impact on young people. She is also the current Director of The Starpath Project for Tertiary Participation and Success, which aims to improve educational achievement of Māori, Pacific and students from low socio-economic communities through research and evidence-based school interventions. After her Bachelor of Education and working as a teacher, Dr Webber returned to the University of Auckland to complete her PhD on the racial-ethnic identity of Māori, Pākehā, Samoan and Chinese secondary school students in Auckland. Her subsequent research and publications combine social psychology, identity development and Māori perspectives on education and methodology. She previously received a Marsden Fast Start grant and a Fulbright Scholarship to expand her research and international collaborations.
Research summary

Iwi identity can be a powerful and enduring aspect of self in te ao Māori and every iwi has its own distinct whakapapa, history, aspirations, and reputation. Consequently, pan-Māori approaches are insufficient when it comes to implementing targeted programmes to accelerate Māori innovation, science, and knowledge creation. Also, many educational policies stipulate that Māori students must have their cultural identity affirmed to be successful in educational contexts, yet none has explained what 'success' might look like from diverse iwi perspectives and few schools and universities have made iwi knowledge a priority in the education of Māori students. This Rutherford Discovery Fellowship will fill this knowledge gap by producing powerful narratives of iwi success, identity, and thriving that are unique and inspirational. This project will define and test models of success that put iwi role models/icons at the centre of that conceptualisation.
In this Fellowship, Dr Webber will explore what constitutes success and aspiration from unique iwi perspectives. In doing so, her research will tackle an important question facing educators – 'How can we foster cultural pride and academic aspiration among Māori students?' – using culturally informed and iwi-determined research methods. She will examine the historical and contemporary icons of five iwi groups to discover what this tells us about enduring identity traits, iwi aspirations, and the tribal educational research programmes that support Māori student success. By accentuating iwi knowledge and agency, Dr Webber seeks to revitalize iwi knowledge bases and world views and make it a priority in the teaching of all New Zealand students.