Nathan Kenny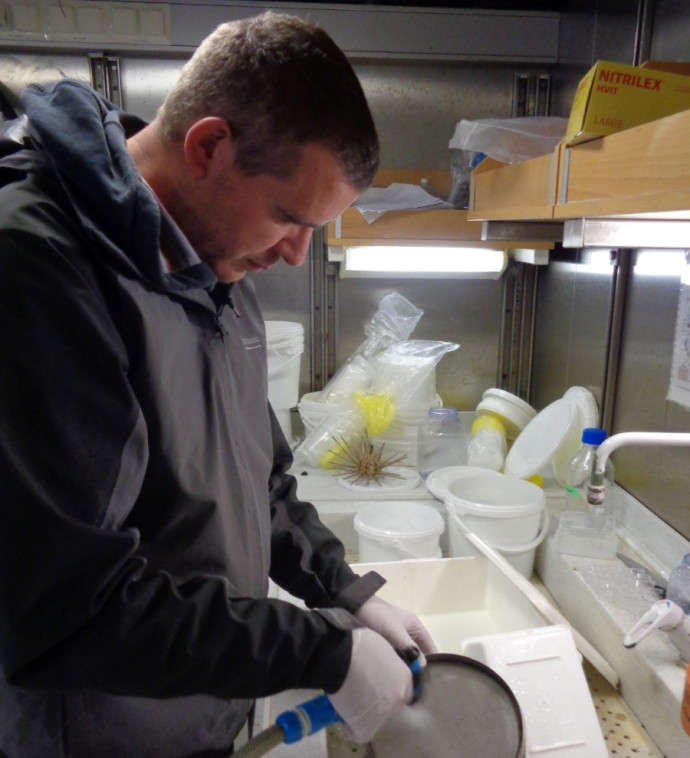 Dr Nathan Kenny collecting meiofauna off a mesh trap. Photo: Kathrin Busch
2020: Dr Nathan Kenny (Ngāi Tahu and Te Ātiawa), University of Otago, has been awarded a Rutherford Discovery Fellowship for research titled 'Stretched mussels: tracing the genetic basis of resilience to climate change and ocean acidification in cultured green-lipped mussels (kuku) from genome to embryo'
Published 22 Whiringa-ā-nuku October 2020
Biography
Dr Nathan Kenny completed his undergraduate training at the University of Otago and received his PhD in Zoology from the University of Oxford in 2014. He did postdoctoral training at the Chinese University of Hong Kong and received a Marie Curie Fellowship in 2017 to conduct research at the Natural History Museum in London, before moving to Oxford Brookes University in the UK. Receiving this Rutherford Discovery Fellowship will allow Dr Kenny to return to New Zealand to continue his research career at the University of Otago.
Research summary
Kuku, green-lipped mussels, are a taonga species and are critical ecosystem engineers in the waters of Aotearoa New Zealand, where they play a key role in water filtration and food webs. Today the kuku aquaculture industry is valued at over $348 million a year, with worldwide exports. The aquaculture community in Aotearoa has a reputation for embracing innovation, and has been an early adopter of cutting-edge methods for commercial farming. Emerging genetic and molecular tools have the potential to be transformative in this industry, and could be valuable methods to understand the response of kuku to global climate change.
Dr Kenny will use the latest genomic and epigenomic technologies to identify the specific basis of resilience to thermal stress and ocean acidification in kuku and other shellfish. He will particularly focus on the earliest life stages of kuku to develop a thorough understanding of the developmental foundation of resilient traits. This Rutherford Discovery Fellowship research will contribute to kaitiakitanga of this culturally and commercially important species for generations to come.