Volker Nock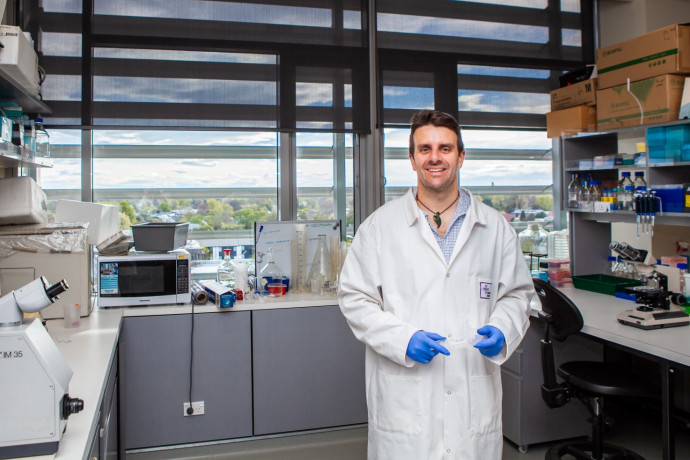 Dr Nock in his laboratory at the University of Canterbury. Photo: Supplied
2019: Dr Volker Nock, University of Canterbury, has been awarded a Rutherford Discovery Fellowship for research titled 'Electrotaxis and protrusive force generation in fungal and oomycete pathogens – Pathways to new biocontrol strategies'
Published 10 Whiringa-ā-nuku October 2019
Biography
Dr Volker Nock is a Senior Lecturer in the Department of Electrical and Computer Engineering at the University of Canterbury. Dr Nock received his PhD in Electrical and Electronic Engineering in 2012 from the University of Canterbury. He continued his career at the University of Canterbury where he was a Postdoctoral Fellow before being appointed as a Lecturer in 2012 and Senior Lecturer in 2015. He is Co-Director of the Biomolecular Interaction Centre (BIC) and is a Principal Investigator of the MacDiarmid Institute for Advanced Materials and Nanotechnology. His research expertise is in microfluidics, lab-on-a-chip devices, actuators and force and oxygen sensors.
Research Summary
Fungi and fungi-like organisms known as oomycetes are important players in the cycle of life as they decompose dead and decaying organic matter. Through this crucial role in the nutrient cycle they influence the wellbeing of human populations on a large scale. However, while many fungi and oomycetes are benign, some pathogenic species cause disease in plants and animals. Recent infamous examples include Kauri Dieback and Myrtle Rust. To combat these disease causing species, it is important to understand how they locate and infect their target. For example, spores of certain fungi use electric fields present in the roots of trees to detect and navigate towards them. Once at the target, spores of pathogenic fungi and oomycetes begin to germinate, sending out shoots that physically invade the tissue of the target, sometimes leading to its death.
The aim of Dr Nock's Rutherford Discovery Fellowship is to establish the antifungal properties of new compounds, plants and other species for the development of novel treatments. To do so, Dr Nock will use his nanobiotechnology expertise, developing lab-on-a-chip devices to further understand how fungi and oomycetes find targets and physically invade them. The devices will include arrays of electrodes to determine how spores locate tree roots, and whether roots can be protected using external electric fields. They will also include force-sensing micropillars to help determine the internal mechanisms by which the fungi and oomycetes generate the mechanical forces they use to penetrate their targets. If the factors that underlie all these mechanisms can be determined, this may impact how we address the many diseases and infections that occur due to pathogenic fungi and oomycetes.