News
Published 10 November 2015
2015 Research Honours Dinner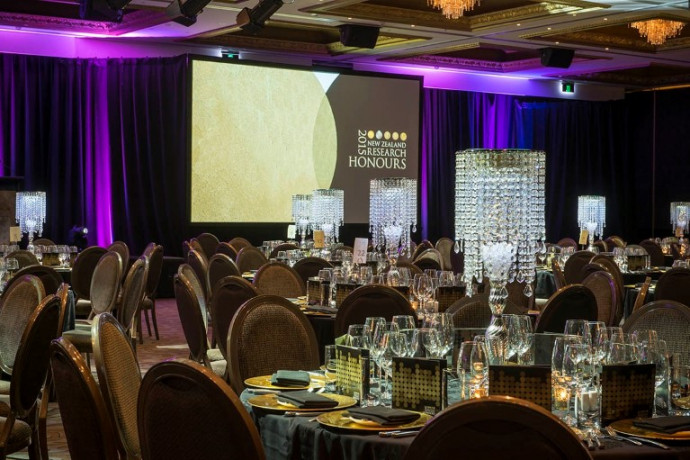 The Royal Society of New Zealand presented eleven medals at the 2015 Research Honours Dinner.
View photographs from the evening.
Distinguished Professor Ian Reid FRSNZ, University of Auckland, received the Rutherford Medal, the Society's premier New Zealand science award, to for his seminal contributions to the understanding and treatment of metabolic bone diseases such as osteoporosis and Paget's disease. Read more on the 2015 Rutherford Medal.
The Pickering Medal was awarded to Professor Margaret Hyland, University of Auckland, for her basic and applied research to reduce fluoride emissions from the aluminium industry, which provide environmental, economic and health benefits. Her guide to managing fluoride emissions, published in 2011, has allowed aluminium smelters worldwide to reduce emissions through operation and maintenance practices that are cost-effective to implement. Read more on the 2015 Pickering Medal.
The Thomson Medal for science leadership has been awarded to Professor Richard Blaikie FRSNZ, University of Otago, for his involvement in establishing and supporting nanotechnology as a strong sub-discipline in New Zealand and for his leadership of the MacDiarmid Institute, a leading Centre of Research Excellence. Read more on the 2015 Thomson Medal.
"Nanogirl" Dr Michelle Dickinson, University of Auckland, completes her sweep of New Zealand's science communication awards by being awarded the Callaghan Medal, named after Sir Paul Callaghan. Dr Dickinson has been awarded the medal for her passion and dedication to communicating the value of science, particularly to young people. Read more on the 2015 Callaghan Medal.

Professor Valery Feigin, Auckland University of Technology, has been awarded the MacDiarmid Medal for his research into understanding international stroke epidemiology and the development of a mobile app that can help people assess and mitigate their stroke risk. The app is currently being translated into 20 languages. With almost 2 billion smartphone users in the world, and the number increasing every year, the potential of the app to reduce the burden of stroke and other diseases such as dementia, heart attack and diabetes across the globe is immense. Read more on the 2015 MacDiarmid Medal.

The Hector Medal was awarded to Dr Ian Brown FRSNZ, Callaghan Innovation, for his research into materials chemistry, including high-performance ceramics, glass and metallurgy, which have led to major technology platforms of strategic and commercial significance in New Zealand. Read more on the 2015 Hector Medal.

Professor Margaret Mutu, University of Auckland, has been awarded the Pou Aronui Award for her sustained contributions to indigenous rights and scholarship in New Zealand. Her research has focused on Māori rights, sovereignty and constitutional transformation, oral traditions and histories, Māori resource management and conservation practices and Māori and Polynesian linguistics. Read more on the 2015 Pou Aronui Award.
Research into marine geology in New Zealand has earned Professor Lionel Carter FRSNZ, Victoria University of Wellington, the Hutton Medal. He has made fundamental investigations into sea-floor geological processes, such as ocean currents, and applied them widely to coastal erosion, seafloor cable integrity, New Zealand's Exclusive Economic Zone and using sediment cores to understand and model past and future ocean/climate interactions. Read more on the 2015 Hutton Medal.
Emeritus Professor Atholl Anderson FRSNZ, of Ngai Tahu descent and formerly at Australian National University, has been awarded the Humanities Aronui Medal for his outstanding contributions to the humanities through research on pre-European migration and colonisation of oceanic islands. His research has challenged conventional thinking about ancient seafaring and the timing of Indian Ocean and Pacific Ocean island colonisation with a particular focus on understanding Māori colonisation of Aotearoa. Read more on the 2015 Humanities Aronui Medal.
The Mason Durie Medal has been awarded to Professor Keith Petrie FRSNZ, University of Auckland, for his research into patients' perceptions of illness and how these perceptions impact on recovery and coping, co-developing the widely-used Illness Perception Questionnaire (IPQ) that measures how patients mentally represent their illness and associated symptoms. His research has brought the importance of patient perspectives more to the forefront in clinical medicine. Read more on the 2015 Mason Durie Medal.
Associate Professor Ruth Fitzgerald, University of Otago, has been awarded the Te Rangi Hiroa Medal for her work as a medical anthropologist that has placed many health issues such as genetic testing, disabilities, reproductive decisions and oral health in a New Zealand social and political context. Read more on the 2015 Te Rangi Hiroa Medal.
Source: Royal Society Te Apārangi